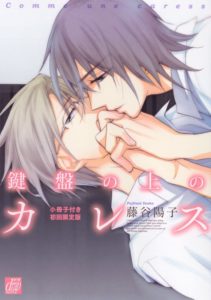 Manga: Kenban no Ue no Caress
Author: Fujitani Youko
Genres: Drama, Yaoi
Released: 2010
Status in Country of Origin: 3 Volumes (Complete)
Scanlator: Yaoi on a whim!
Itadakimasu
Summary: The prodigy, Isshiki Kyouya, selected Sasa Kenjirou as his piano teacher. Sasa, who used to be a prodigy, thought that his own potential was limited when he heard the young Isshiki played at a concert. However, Isshiki was actually captivated by Sasa's music instead years back. Their love for each other was connected through their music. With the reverberating affection, this relationship blossomed miraculously.
Download Kenban no Ue no Caress Manga:
Kenban no Ue no Caress
Read Kenban no Ue no Caress Online:
Kenban no Ue no Caress
_______________________________________________________________________________
Post's Author Opinion:
Note: This is a personal opinion, it does not reflect YaoiOtaku's official position towards the manga.
This is a rather nice story that is one of those rare stories that doesn't have a lot of smut but still maintains a lot of interest and enjoyment. The story is a simple but romantic one, and the characters are both relatable. They aren't annoying and the relationship is rather sweet and also relatable.
This story was meant to be short but still a nice read, but even with that, the only weakness is that there wasn't as much development as I would have liked. The characters were likeable, and the relationship was sweet, but there was still something that was lacking that I think perhaps one more volume might have helped.
That is the only thing I found weak about it, since overall the story is simple, it's sweet and it's not too long. There isn't a ton of drama and its a nice read overall. Be warned though that this relationship involves an age gap so if that isn't something you like it may not be for you. If you don't mind, then this is a nice easy read.
What's your opinion on Kenban no Ue no Caress manga? Please let us know in the comments below.