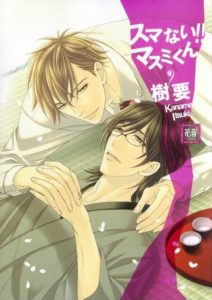 Manga: Sumanai!! Masumi-kun
Author: Itsuki Kaname
Genres: Drama, Romance, Slice of Life, Yaoi
Released: 2008
Status in Country of Origin: 1 Volume (Complete)
Scanlator: Dangerous Pleasure
Summary: Shiraishi Shoutarou, a novelist, just learnt that his young and honest editor-in-charge, Osanai Masumi, would marry his precious daughter. But his daughter went missing right before the wedding!
So now, Shoutarou is living under the same roof with the man who was supposed to be his son-in-law…
Download Sumanai!! Masumi-kun Manga:
Sumanai!! Masumi-kun
Read Sumanai!! Masumi-kun Online:
N/A
_______________________________________________________________________________
Post's Author Opinion:
Note: This is a personal opinion, it does not reflect YaoiOtaku's official position towards the manga.
This is a beautiful and endearing story. It's a nice and simple story with characters that were so likeable it made the story such an enjoyable read. It's not very long (though I would have loved more) and while the story may not be very angsty or dramatic, It's the interaction between the characters, and the love that ultimately grows that really makes this such a romantic story.
The artwork is also quite lovely, and the compatibility between Shoutarou and Masumi is really sweet. This isn't meant to be overly dramatic, and there isn't suppose to be a lot of angst, it's just a pure and simple story.
This also deals with a relationship that has an age gap, so it may not be for everyone. But I think the fact that the characters are so sweet and the relationship is so lovely that if you are able to look past the age difference it's a very enjoyable story that will not leave you disappointed.
What's your opinion on Sumanai!! Masumi-kun manga? Please let us know in the comments below.