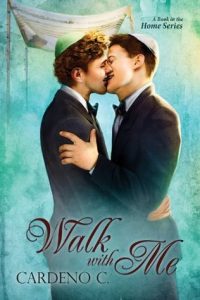 Novel: Walk With Me (Home #7)
Author: Cardeno C
Genres: Romance, Childhood friends
Released: 2014
Part of Book Series: Home Series (Book #7)
Summary: When Eli Block steps into his parents' living room and sees his childhood crush sitting on the couch, he starts a shameless campaign to seduce the young rabbi. Unfortunately, Seth Cohen barely remembers Eli and he resolutely shuts down all his advances. As a tenuous and then binding friendship forms between the two men, Eli must find a way to move past his unrequited love while still keeping his best friend in his life. Not an easy feat when the same person occupies both roles.
Professional, proper Seth is shocked by Eli's brashness, overt sexuality, and easy defiance of societal norms. But he's also drawn to the happy, funny, light-filled man. As their friendship deepens over the years, Seth watches Eli mature into a man he admires and respects. When Seth finds himself longing for what Eli had so easily offered, he has to decide whether he's willing to veer from his safe life-plan to build a future with Eli.
Walk With Me is set in the Home series where the books are linked by theme or world. They are independent and can be read in any order.
---
Post's Author Opinion:
Note: This is a personal opinion, it does not reflect YaoiOtaku's official position towards the novel.
When I first started writing reviews, this is one of the books that I want to share with everyone. I read it a while ago, put it aside (if that's even virtually possible) and for some reason forgot the title. Thankfully the character's name narrowed down the search in my archive and it was an enjoyable experience to be able to read this story for a second time.
This novel has some of the best characters that I look for when picking up a book. No one is annoying (except for the drunk bridesmaids in weddings officiated by Seth), chill friends, and even chiller parents. There is never a dull moment with Eli and Seth. I love how Eli is so open and frank, at the same time still retains his innocence. I like how Seth doesn't do things half-assed. The way every chapter starts with a wedding invitation is unique and despite the absence of heavy drama in this book, all the wedding incidents make up for it. The invitation cards also serve as a timeline to show how the main characters evolve over the years. Although it frustrates me that it takes years before they get together (when they could have been sooner), it is a crucial development for Seth to come to terms with his feelings and for Eli to mature from holding onto his true love. I also think that the humor is very nicely done.
I have no complaints, but as this is my first time reading a story revolving around a religious Jewish community, it feels a little off to showcase a character whose profession is a Rabbi to be openly involved with someone outside of wedlock, gay or not.
Overall, if you're looking for a light-hearted romance with a good dash of humor and entertaining characters, this is a good book to read. It is told alternately in Seth and Eli's p.o.v, but the author's style makes it easy to follow which chapter is told by whom. I totally recommend it.
What's your opinion on Walk With Me novel? Please let us know in the comments below.