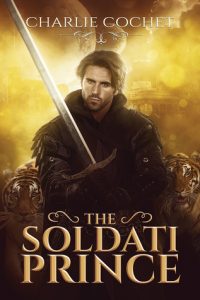 Novel: The Soldati Prince
Author: Charlie Cochet
Genres: Fantasy, Romance, Paranormal (Shapeshifters)
Released: 2016
Part of Book Series: Soldati Hearts (Book #1)
Summary: One moment Riley Murrough is living a normal life working in a coffee shop, and the next he's running for his life from demons, learns he bears the mark of a shape-shifter king from a magical realm, and—worst of all—he's destined to become the mated prince to the arrogant tiger shifter he would rather strangle.
Khalon, the shifter king, is equally distraught at the idea of being bound to a human prince, and along with his Soldati warriors, he sets out to return Riley to his own world where he belongs. On their journey they might discover why the priestess brought them together—if they can escape the demons and make it to her alive.
---
Post's Author Opinion:
Note: This is a personal opinion, it does not reflect YaoiOtaku's official position towards the novel.
For a novella, I think this book has a really good potential. The concept of real world human-meets-fantasy world king is not unheard of, but stories about tiger shapeshifter warriors are. So, in the spirit of uncovering something new, I picked up this book in hopes that it would be another favorite.
I have to say that I liked the setting of this book. Although the fantasy world was designed in a medieval setting, it was mentioned that the characters were well aware of the human world and technologies. They also had plumbing system installed in the castles, so the eww factor was not there. Which meant, when Riley – a human who was presumed to be mistakenly chosen as the mate of the Soldati King – went to live in the magic realm, he didn't find it hard to adjust.
I'm not sure whether it was because the book was short, but at the end of it, I found myself asking "that's it?" I guessed I was putting a lot of expectations on it in the beginning because it sounded promising. Don't get me wrong, I liked the story even though Khalon was getting on my nerves, but that was normal in romance genre and as predicted, he had his redeeming qualities. I was a little anxious on whether there would be a betrayal somewhere because one of the characters felt a little sketchy to me, but luckily, the main protagonists were surrounded by trustworthy people. Another plus point for me.
Overall, I was only slightly disappointed that it wasn't developed further, just because there were so much possibilities. A few questions were left unanswered like what happened to the coffee shop that the demon destroyed when going after Riley. Thankfully, we get a second book featuring two of the characters introduced in this installment, so give this book a chance, and we'll see what awaits us in the next one!
What's your opinion on The Soldati Prince novel? Please let us know in the comments below.