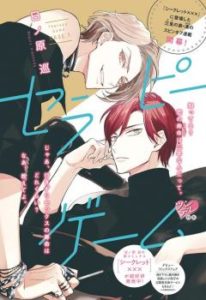 Manga: Therapy Game, セラピーゲーム
Author: Hinohara Meguru
Genres: Romance, Slice of Life, Yaoi
Released: 2017
Status in Country of Origin: 6 chapters (complete)
Scanlator: N/A
Summary: Spin-off; adapted from the manga "Secret XXX".
Shizuma, Shouhei's older brother went to a bar to drink away his sorrows after getting dumped by his girlfriend. There he meets Minato, the younger brother of Mito, who just a few minutes ago, got stolen away by Shouhei. Heartbroken and drunk, Shizuma pours out his feelings to him. The usually unapproachable Minato had a change of mind this night and patiently listened to his seat-neighbor. Both men, feeling the urge of being comforted, ended up sleeping with each other at a hotel. Unfortunately in the following morning, Shizuma-kun who now sobered up seems to have forgotten about what happened a few hours ago. still puzzled and Unable to forget the sensation Minato felt while being together with his new acquaintance, the fox-like man tries to help him remember by force… which backfired at him. Enraged, while talking with the 'girls' of the bar, Micchan thinks of a plan and makes a bet to make the straight man fall in love with him so that he can get his revenge by throwing Shizuma away, once gaining his trust.
Will Minato's cold plan succeed? Or are his true feelings and the desire to be loved winning at the end?
Download Therapy Game Manga:
Therapy Game [ENG]
Therapy Game [JP]
Read Therapy Game Online:
Therapy Game
---
Post's Author Opinion:
Note: This is a personal opinion, it does not reflect YaoiOtaku's official position towards the manga.
All of you, who read "Secret XXX" and were also interested into the side-characters of Shizuma and Minato,  should definitely read this. It tells you the story, of how the unalike couple started their relationship and also depicts the past of the two brothers Mito and Minato. Just like the Main-story, it is a nice and easy read with a more mature atmosphere. Neverthless, as in "Secret XXX" it doesn't spare on any romance and cuteness.
What's your opinion on Therapy Game manga? Please let us know in the comments below.