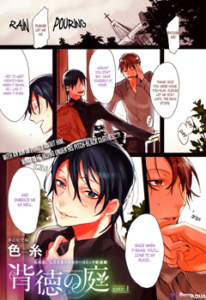 Manga: Haitoku no Niwa, Immoral Garden, 背徳の庭
Author: Iroito
Genres: Yaoi, Smut
Released: 2014
Status in Country of Origin: Complete
Scanlator: BangAQUA
Summary: A "love" story between You, a priest with an active sex life, and Kihirito, his "friend".
Download Haitoku no Niwa Manga:
Haitoku no Niwa
Read Haitoku no Niwa Online:
Haitoku no Niwa
---
Post Author's Opinion:
Note: This is a personal opinion, it does not reflect YaoiOtaku's official position towards the manga.
Objectively, Haitoku no Niwa probably doesn't deserve as grand of a rating as four stars. Subjectively, however, this was such a fun, easy, and sexy manga that I couldn't help but enjoy myself to such a high extent. Naturally, most of us want story, plot, character development, conflict, and resolution in manga. I certainly do. Sometimes, though, we all need something that is just sexy, delicious, with no plot or drama or anything at all except hot, hot sex.
What little story there is involves, You, a priest who enjoys crossdressing, and Kihirito, his "friend" who enjoys visiting him and doing all sorts of naughty things with him. And there it is. The extent of the story. The rest is seeing You in lovely pieces of lingerie and how much he enjoys his time with Kihirito. It's only four chapters long and each chapter takes maybe four minutes max to read. As a bonus all of the pages are colored, and the art is just beautiful!
Again, sometimes we all just need to de-stress with some PWP, and if that's what you're looking for then I highly recommend Haitoku no Niwa. It's definitely one of the most fun PWP stories I've read.
What's your opinion on Haitoku no Niwa manga? Please let us know in the comments below.