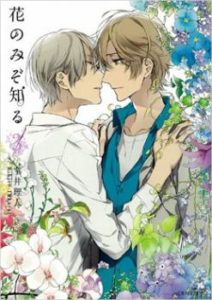 Manga: Hana no Mizo Shiru, Only the Flower Knows, 只有花知晓, 只有花知道, 花のみぞ知る, 꽃만이 안다
Author: TAKARAI Rihito
Genres: Drama, Romance, Slice of Life, Yaoi
Released: 2009
Status in Country of Origin: 3 Volumes (Complete)
Scanlator: Alterity Scans, Catandmouse Scans, Fujoshi Ninja, Ikahomine, SpicaSkies
Summary: Arikawa Youichi's life at university is going just fine. He isn't having any trouble with his classes, he has plenty of friends, and even a cute girlfriend named Kanami. Then the day comes where he meets Misaki. Misaki Shouta is a reserved, stand offish fellow but for some reason, Youichi can't seem to get him out of his mind. In fact, he can't seem to stay away. When he lands a job working in the lab with Misaki, it seems more than just the flowers are about to bloom. But will they recognise their emotions for what they are, and have the courage to accept it?
Download Hana no Mizo Shiru Manga:
Hana no Mizo Shiru [ENG]
Hana no Mizo Shiru [JP]
Read Hana no Mizo Shiru Online:
Hana no Mizo Shiru [VOL 1]
Hana no Mizo Shiru [VOL 2]
Hana no Mizo Shiru [VOL 3]
---
Post's Author Opinion:
Note: This is a personal opinion, it does not reflect YaoiOtaku's official position towards the manga.
I felt addressed by this manga in so many ways. To me, Takarai Rihito picked up subjects, i think most of us can relate to. For example, it talks about the pain of suddenly losing people dear to you and ending up alone, unrequited love, the fear of not being accepted by society or simply the worries of being rejected by the one you like. Now, after reading about all these gloomy topics you might think, this is some great material for a turbulent angst yaoi, but it turns out to be quite the opposite. The mangaka used all the sadness and negativity of these subjects to convert them into a sweet romance plot, full of optimism and hope, which sets it's focus on the steady growing happiness and love of the fated couple.
I loved the character design of both Misaki and Arikawa. Misaki Shouta with his quiet, reserved, innocent personality is the counterpart to Arikawa Youichi's lively, outgoing and cheerful self. Both are very endearing and compliment each other perfectly.
To mention the art, as usual, Takarai Rihito doesn't let us down. In my opinion, it is one of her cuter looking, mellow works with some beautiful dream-like scenes.
I hope this review makes you at least a little curious and helps you decide to read it, if you haven't done so yet. Hana no Mizo Shiru is in my personal "Yaoi classics every fujoshi and fudanshi should read at least once -ranking-list" and is definitely worth reading because of its splendid storytelling, which feels so close to reality that it definitely reaches the readers heart. 😉
What's your opinion on Hana no Mizo Shiru manga? Please let us know in the comments below.