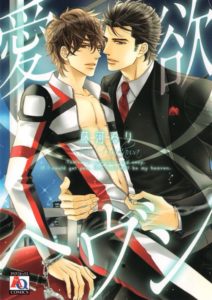 Manga: Aiyoku Heaven
Author: Fujikawa Ruri
Genres: Drama, Romance, Smut, Sports, Yaoi
Released: 2012
Status in Country of Origin: 1 Volume (Complete)
Scanlator: Fujoshi Bitches
Summary: After being abandoned by the Goddess of Victory, Hayase Mahiro, the genius racer, was unable to win any more. Right when he was at the end of his rope with financing his team, a suspicious man dressed in a black suit appeared before him. His identity? The owner of a private, exclusive club, to which only the chosen ones have access. Mahiro begun working there and with his inherent, unyielding spirit as his weapon, started climbing up the ladder of this gorgeous world. But…?
Download Aiyoku Heaven Manga:
N/A
Read Aiyoku Heaven Online:
Aiyoku Heaven
---
Post's Author Opinion:
Note: This is a personal opinion, it does not reflect YaoiOtaku's official position towards the manga.
Aiyoku Heaven has an interesting premise, and the artwork is just beautiful in this. The theme of a motorcycle racer and the boss of a host club sounded promising to me. But sadly this is another one of those series that had so much promise and could have been so good but fell short of that (by a mile).
The premise while interesting didn't go into much detail or depth, the plot was kind of all over the place. You never find out if Mahiro becomes a top host or a top racer, or even both. You don't know if the relationship develops into anything beyond what was portrayed, and the ending leaves you feeling a bit cheated and wanting more, not necessarily in a good way either. More in the way of having a lot of the unanswered questions answered.
The relationship between Mahiro and Kiryu was superficial and you never really find out if this is just all about business or if there is any sort of attraction at all. There seems to be a hint of it, since Kiryu did seem to favor Mahiro, but there didn't seem to be much development.
I did like that Mahiro is not your typical uke and remains tough, and defiant throughout the story, even after being "trained" and prepared for the things that are required of him to be a host, he remains who he is, which is a nice change of pace from the tough ukes who become "broken" at some point.
This is one of the things that I feel does catch Kiryu's attention and why I think even though you don't see much development he does seem to favor Mahiro compared to the other hosts. But whether he actually is attracted to Mahiro or not, it isn't made entirely clear as Mahiro does continue to be a strong and defiant character.
The story is enjoyable if you are able to look beyond the rushed plot and the shallow relationship. The artwork is clean and the sex scenes were well done and hot. Despite the faults this is an entertaining read if you're looking for something smutty and need to pass some time.
What's your opinion on Aiyoku Heaven manga? Please let us know in the comments below.