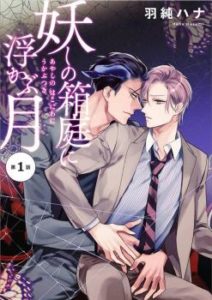 Manga: Ayashi no Hakoniwa ni Ukabu Tsuki, The Shining Moon Appearing in a Mysterious Garden, 妖しの箱庭に浮かぶ月
Author:  HASUMI Hana
Genres: Romance, Supernatural, Yaoi
Released: 2018
Status in Country of Origin: 1 Volume (Complete)
Scanlator: YaoiSM 801, swe3t+moans BLScanlations
Summary: Yuki is a pure and good-natured teacher who prefers to hide the fact that he's gay. Unfortunately, his flirtatious and unassertive behavior at work, puts him into a difficult position that in the end costs him his job. All the happier he is about the  second chance he was given to start his career anew at a all boys private school for so called "young masters with special abilities". However, due to a surreal encounter with the mysterious student Akatsuki, Yuki-Sensei learns  the truth about 'Karasudai Private School' and it's individuals living there, sooner than expected.
Download Ayashi no Hakoniwa ni Ukabu Tsuki Manga:
Ayashi no Hakoniwa ni Ukabu Tsuki [JP]
Read Ayashi no Hakoniwa ni Ukabu Tsuki Online:
N/A
---
Post's Author Opinion:
Note: This is a personal opinion, it does not reflect YaoiOtaku's official position towards the manga.
A sweet plot spiced up with some drama, ikemen demon students and pure teachers who are spellbound by their pupils charms is the recipe for success of this nice fantasy manga.
Whether you already belong to the fan club of fantasy/ supernatural stories or not, i am sure both parties will enjoy this manga. The lighthearted setting, all the pleasant and very handsome characters (they are even attractive in demon their form 😉 ) and beautiful artwork make it easy for every one to read. So if you are looking for a school life yaoi manga that's a little unusual and fancy, yet cute at the same time, i recommend this fun little story to you!
What's your opinion on Ayashi no Hakoniwa ni Ukabu Tsuki manga? Please let us know in the comments below.