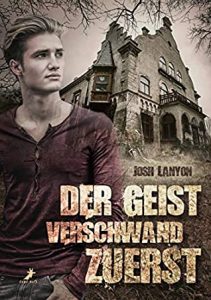 Novel: The Ghost Had an Early Check-Out
Author: Josh Lanyon
Genres: Mystery, Romance
Released: 2018
Part of Book Series: The Ghost Wore Yellow Socks #2
Summary: To live and draw in L.A.
Now living in Los Angeles with former navy SEAL Nick Reno, artist Perry Foster comes to the rescue of elderly and eccentric Horace Daly, the legendary film star of such horror classics as Why Won't You Die, My Darling?
Horace owns the famous, but now run-down, Hollywood hotel Angels Rest, rumored to be haunted. But as far as Perry can tell, the scariest thing about Angels Rest is the cast of crazy tenants–one of whom seems determined to bring down the final curtain on Horace–and anyone else who gets in the way.
---
Post's Author Opinion:
Note: This is a personal opinion, it does not reflect YaoiOtaku's official position towards the novel.
This is the continuation of The Ghost Wore Yellow Socks, yet I think it could be read as standalone. Since I finished the first book a while ago, I'm going to reread that one later and review on this piece first.
Based on my personal taste, Josh Lanyon's books are kind of a hit-and-miss with me. Luckily this time, it was a hit and I liked that I get to peek further into Perry and Nick's relationship. I also had a good time reading this book because despite the mystery, it wasn't too dark or too sinister. The couple also was able to explore more on the depth of their relationship and I adored how they were working on planning their future together. It was a healthy relationship in my eyes. It wasn't sappy, as most Josh Lanyon's books often were (not sappy), but it was enough romance that I was looking for.
If I had to change one thing, it was probably the fact that when someone explicitly tells you to stay put and not get into trouble, he means not to go into the death trap waiting for you. I find this situation a common occurrence in mystery/sleuthing novels and when I come upon it I would automatically roll my eyes and call the character an idiot.
Anyway, at least Perry is still adorable and not annoying. He also has a handsome knight who has a shiny gun, so I can't really complain about that.
Overall, I'm really happy that the second book featuring this couple turns out nicely. I would encourage reading the first one before picking up this piece, but either way, this is a worthy book to add into your reading list.
What's your opinion on The Ghost Had an Early Check-Out novel? Please let us know in the comments below.