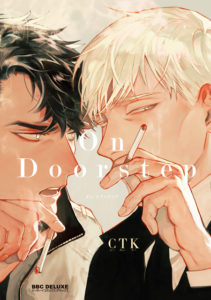 Manga: On Doorstep, オンドアステップ
Author: CTK
Genres: Drama, Romance, Slice of Life, Yaoi
Released: 2016
Status in Country of Origin: 1 Volume (Complete)
Scanlator: Qvfamma, Seraphic Deviltry
Summary: Jimmy, a small-time thief is caught pick-pocketing by Reese, but instead of handing him over to the police, Reese makes him slog hard for a day at the bookstore where he works. Wanting to get back at Reese for the humiliation, Jimmy breaks into his place, where he finds out that Reese is a retired cop. He gets the hell out of there but somehow, he can't get Reese out of his mind…
Download On Doorstep Manga:
On Doorstep
Read On Doorstep Online:
On Doorstep
---
Post's Author Opinion:
Note: This is a personal opinion, it does not reflect YaoiOtaku's official position towards the manga.
First, the art is amazing. I personally prefer it when the seme and uke are both a bit on the manly side. Next is how the characters warmed up to each other and how a certain grave mistake can be wholeheartedly forgiven when you only show how sincere you truly are.
What's your opinion on On Doorstep manga? Please let us know in the comments below.