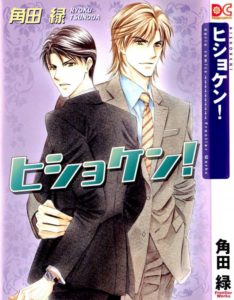 Manga: Hishoken
Author: Tsunoda Ryoku
Genres: Drama, Romance, Slice of life, Yaoi
Released: 2009
Status in Country of Origin: 1 Volume (Complete)
Scanlator: FantasyShrine
Summary: Saito Yo has just been assigned to be the secretary of the company's new director, Nabeshima Hisatsugu, who has supposedly "never worked a day in a company" before. Saito is taken aback by the new director's seemingly non-professional demeanor, and he works hard to reform Nabeshima and get him accustomed to the role of director.
A comment Nabeshima makes one day, however, devastates Saito: Nabeshima mentions that Saito wasn't what he thought a secretary should be. Shocked and frustrated, Saito carelessly blurts out while drunk one night that Nabeshima should "take advantage" of his services. From then on, Nabeshima changes his attitude and leaves Saito feeling even more bewildered.
Download Hishoken Manga:
N/A
Read Hishoken Online:
N/A
_______________________________________________________________________________
Post's Author Opinion:
Note: This is a personal opinion, it does not reflect YaoiOtaku's official position towards the manga.
This was a fairly typical and not really unique story, but it is a bit different from the typical boss/subordinate relationship. Sure the secretary is an uptight and overly serious character while the director acts like a lazy carefree guy, but they are about very likeable and you end up learning a bit more about the director and find out that what he actually hides behind that carefree attitude and that he is also sweet and passionate.
Even after the secretary finally admits his own feelings and the relationship develops, his character remained the same but ultimately with a bit of a softer side towards the director.
This is not a manga with a lot of drama or even anything that's overly unique, but the characters are cute, the artwork is very lovely and clean and the development of the relationship is nice because you get the perspective of each character and what they think, rather than focusing on the director or the secretary only.
This is a nice easy read that's good if you have some free time and want to read something that doesn't require a lot of thinking. Though if you are looking for something that has a lot of sex in it, this will not fulfill that desire. Other then that, this is worth the read.
What's your opinion on Hishoken manga? Please let us know in the comments below.