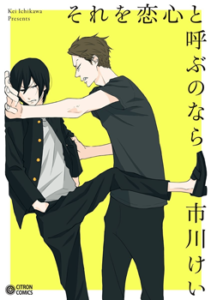 Manga: Sore o Koigokoro to Yobu no Nara, それを恋心と呼ぶのなら
Author: Ichikawa Kei
Genres: Yaoi, Comedy, Slice of Life
Released: 2014
Status in Country of Origin: Complete
Scanlator: Moi-xRyu Scanlations
Summary: What if you spotted your ideal beauty at the train station and confessed your love immediately? What if that beauty turned out to be a guy and moreover a homophobic one? What if you two ended up in the same high school and if he caused everyone to mistake you for a homo? What if you still couldn't leave him alone?
Well, that's the kind of story it is.
Download Sore o Koigokoro to Yobu no Nara:
Sore o Koigokoro to Yobu no Nara
Read Sore o Koigokoro to Yobu no Nara Online:
Sore o Koigokoro to Yobu no Nara
---
Post Author's Opinion:
Note: This is a personal opinion, it does not reflect YaoiOtaku's official position towards the manga.
Sore o Koigokoro to Yobu no Nara is such a hysterical manga. There's rarely a moment that won't leave you laughing. To put it simply, the story is about two idiots, Taisei and Sumeragi) falling in love and it's nothing short of adorable. On top of that, they both have bad attitudes of the tsundere sort and they're both loud and abrasive. There's a lot of yelling and humor, and yet somehow the journey they take to fall in love is believable. There's something oddly realistic about this situation considering how over-the-top the personalities are. Perhaps that realism and the small boughts of drama between the humorous parts are what makes this manga so great. Taisei's friends have an important role in momentum of the story, and while they (and Sumeragi) often express homophobia, they care about their friends and play a certain part in helping the two of them realize their love for each other. Seeing the relationship between the pairing and their friends create a special dynamic that isn't always present in yaoi manga. Relationships effect many, many people and this manga does an amazing job of showing how Taisei's friends not only help, but handle the fact that he is in this new relationship. Sore o Koigokoro to Yobu no Nara has many moving parts and yet is so simple at the same time. It's an amazing story and so much fun that I feel everyone should give it a read.
What's your opinion on Sore o Koigokoro to Yobu no Nara manga? Please let us know in the comments below.