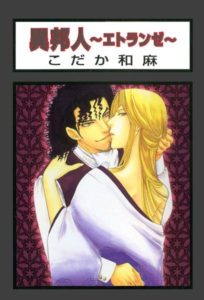 Manga: Ihoujin ~ Etrange
Author: Kodaka Kazuma
Genres: Comedy, Drama, Romance, Supernatural, Tragedy, Yaoi
Released: 2003
Status in Country of Origin: 1 Volume (Complete)
Scanlator: Atlantisdream
Countless Time
Summary: Born of an Incubus clan, Tsukiya has had enough of the pain that comes from only bringing death to the human men he comes to love and so closes his heart, and denies himself from ever again feasting on human souls. Gento, the ever persistent demon that he is, has never been far from Tsukiya's side and has seen him mourn the death of many lovers, never understanding why Tsukiya continued to seek a love with these mortals that would forever bring him nothing but pain. Now years later can Gento, still ever pursuing Tsukiya, finally win over Tsukiya's heart for himself, and can Tsukiya help a young Incubus through the pain that comes from falling in love?
Download Ihoujin ~ Etrange Manga:
Ihoujin ~ Etrange
Read Ihoujin ~ Etrange Online:
NA
---
Post's Author Opinion:
Note: This is a personal opinion, it does not reflect YaoiOtaku's official position towards the manga.
I always enjoy Kodaka's stories, and this one was enjoyable for the most part, but there was something that seemed rushed and incomplete about this whole story. The story does have a lot more depth than the summary would suggest, and it's quite an interesting story, but as I mentioned, there was just something that I found to be really unsatisfying about the manga. Especially with some of the time skips it just seemed to make the story even more jumpy, as though Kodaka didn't really know where exactly she wanted to go with it.
What really intrigued me was the very first chapter and the relationship between the man and Tsukiya, but then after that chapter things just didn't seem to flow well. THe other thing that I didn't care for was the "sudden" personality changes and the random new characters that seemed to pop up throughout the story. Especially when some of them really don't have any real relevance to the story.
I did find the relationship and the character of Aya to be rather interesting, although I found Aya to be quite the brat, and I was a little bit interested in the relationship between Tsukiya and Gento. Though I found the antics of Gento to be rather obnoxious and presumptuous which I don't find charming. Same went with Tsukiya who uses Gento to get what he needs to survive, but I describe their relationship as a relationship that benefits the two of them, not romantic.
That, while I did find pointless at times, did make for some decent sex scenes, and added some comic relief when Tsukiya was fed up with Gento's antics. So not entirely a deal breaker for me. But again, the sudden family type "relationship" was something that seemed to come out of nowhere which detracted a lot from the story.
There are things that make the story really good, even with all the time skips, random characters, and the relationships that seem to develop without much insight as to how. Especially since there is a nice balance of humor and seriousness, like when the characters are forced to think about the dilemmas they face. Even with some of the things that I didn't care for, I do recommend this, and hopefully persist through it as there are touching moments, and a nice balance of Comedy and Seriousness.
What's your opinion on Ihoujin ~ Etrange manga? Please let us know in the comments below.