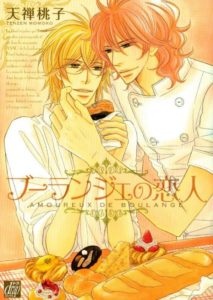 Manga: Boulange no Koibito
Author: Tenzen Momoko
Genres: Romance, Slice of Life, Yaoi
Released: 2010
Status in Country of Origin: 1 Volume (Complete)
Scanlator: Attractive Fascinante
Summary: Asao Munenori gave up his dream to become a patisserie and returned to succeed his parents' bakery. One day, one of his customers, the pretty Fujikawa Hijiri, fainted right in front of him. They probably already liked each other when they became friends. After a few days without seeing each other, the dense Fujikawa expressed his love honestly without realising it. After they became lovers, Asao was glad that his hesitation in giving up his dream turned out to be a fruitful one.
Contain's a oneshot entitled The Neighbor.
What will happen after Saki finally meets his neighbor for the first time.
Download Boulange no Koibito Manga:
Boulange no Koibito
Read Boulange no Koibito Online:
N/A
Post's Author Opinion:
Note: This is a personal opinion, it does not reflect YaoiOtaku's official position towards the manga.
This story is the perfect example of a simple feel good yaoi manga, and while it might not be for everyone due to the lack of drama, I still found it satisfying. It's sweet, it's simple, it's adorable, and loveable. There is no real drama, no non-con, no love triangles and no misunderstandings in this manga. The artwork may not be particularly stunning, but it fits the story and adds to the cuteness.
The characters are just adorable, likeable and they are rather relatable in an innocent and sweet way and their relationship is just as sweet as they are. The romance is pure and cute and it's meant to leave you feeling good.
If you are looking for a change from rape, drama, or abusive manga, then I highly recommend this manga because it is a simple, lighthearted and purely romantic story.
What's your opinion on Boulange no Koibito manga? Please let us know in the comments below.