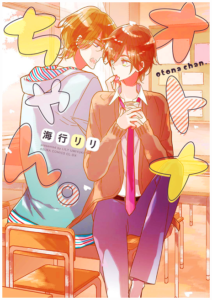 Manga: Otona-chan
Author: Umiyuki Lily
Genres: Shounen-Ai
Released: 2014
Status in Country of Origin: Complete
Scanlator: Yaoi Desire Revolution
Summary: High school student, "Otona-chan" is popular among both guys and girls with his cute looks. But instead of being treated like a child, he wants to be treated like an adult and really admires cool adults. And then comes a student teacher to his class, who is very much adult-like and he falls hard…
Download Otona-chan Manga:
Otona-chan
Read Otona-chan Online:
Otona-chan
---
Post Author's Opinion:
Note: This is a personal opinion, it does not reflect YaoiOtaku's official position towards the manga.
I'd say this is a strange manga, but an adorable one as well. Otona-chan is a sweet, cute, manga that truly feels like you've jumped into a basket of bubblegum, rainbows, cotton candy, and puppies. It's truly that sweet and precious. I wouldn't say there's much unique about it in the way of storyline, but there is a twist at the end which is why I say that the manga has something strange about it. Mind you, I enjoyed this twist even if it did seem to come out of nowhere. It added to the "bubblegum" feeling of the manga, so I consider it acceptable. If you're looking for something sweet and cute without much drama, then Otona-chan is right up your alley.
What's your opinion on Otona-chan manga? Please let us know in the comments below.