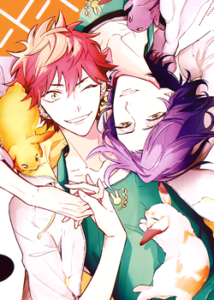 Manga: Secret XXX, シークレットXXX
Author: Hinohara Meguru
Genres: Yaoi
Released: 2016
Status in Country of Origin: Complete
Scanlator: Canis Major Scans
Summary: After going through many hardships, Mito and Shouhei finally became lovers. Just when their love is starting to bloom, Mito begins to act strange for some reason. Shouhei still doesn't know much about Mito so he can only sense Mito is hiding something from him. One day, Shouhei saw Mito with another guy in his car?! What could Mito be hiding? Can Shouhei keep his faith in Mito?
Download Secret XXX Manga:
Secret XXX
Read Secret XXX Online:
Secret XXX
---
Post's Author Opinion:
Note: This is a personal opinion, it does not reflect YaoiOtaku's official position towards the manga.
Hinohara Meguru gives us another beautifully drawn manga, which just so happens to be the sequel to Allergy XXX. You don't necessarily need to read Allergy XXX in order to understand this story, but reading it will give you some insight into Shohei and Mito and how their relationship started. Plus why wouldn't you want more of these cuties? Secrets play another big part in this story (could you guess from the title?), though this time it's Mito who is hiding something. The same cute and sweet nature of the first story is retained in this one. Even though we see Shohei concerned for his boyfriend and we worry about what it is that Mito is hiding, the fun-filled, mostly light-hearted atmosphere is ever present. Whether you read it stand-alone or after reading Allergy XXX you leave with your heart warmed to the brim. And don't worry. Hinohara doesn't deny us our smutty scenes. There's not too much, but what we get is just perfect and fits in well with the cuteness of the story.
What's your opinion on Secret XXX manga? Please let us know in the comments below.