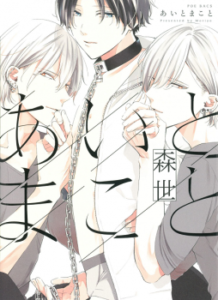 Manga: Ai to Makoto, あいとまこと
Author: Moriyo
Genres: Drama, Yaoi
Released: 2017
Status in Country of Origin: 1 Volume (Complete)
Scanlator: Manyak Translations, Natsurei Scans, SaltyPotatoesTrans
Summary: A contract with twisted twins. A story of the three being tossed by fate –Towa, who carries the debt of his ex-boyfriend. To return the debt he made a contract with the handsome looking twins to live with them as master and pet. The twins lived in a high-class mansion and the two of them are really close to each other. Towa was happy to see how close they were, but the twins actually have a complicated past–. A story of a Super Celebrity Twins x Poor in debt boy.
Download Ai to Makoto Manga:
Ai to Makoto [ENG]
Ai to Makoto [JP]
Read Ai to Makoto Online:
N/A
---
Post's Author Opinion:
Note: This is a personal opinion, it does not reflect YaoiOtaku's official position towards the manga.
If you love twincest, love triangles, drama, and plot-twists then this is a must read for you! This manga offers so many different things for the reader and it's one of the most odd yet absorbing stories which will make you fall in love with the manga while you're reading it! Personally speaking it's one of my favorites, I hope you enjoy it too.
What's your opinion on Ai to Makoto manga? Please let us know in the comments below.