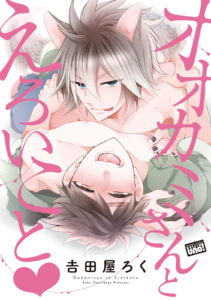 Manga: Ookami-san to Eroi koto, オオカミさんとえろいこと
Author: YOSHIDAYA Roku
Genres: Fantasy, Romance, Supernatural, Yaoi
Released: 2015
Status in Country of Origin: 1 Volume (Complete)
Scanlator: SaltyPotatoesTrans, A Cup of Oppa
Summary:
1. Oogami's Beast is in Heat
2-3. Nii-san is All Mine
4. Repayment of Wolf-Child in Love
5. My Wolf's First Love
5.5 Ookami-san's Transformation
Download Ookami-san to Eroi koto Manga:
Ookami-san to Eroi koto
Read Ookami-san to Eroi koto Online:
N/A
---
Post's Author Opinion:
Note: This is a personal opinion, it does not reflect YaoiOtaku's official position towards the manga.
A funny collection of connected short stories which involves wolves, cute ukes, and a dash of incest (warning!) All in all, a good read if you're interested in good art and abrupt pacing of the plot.
What's your opinion on Ookami-san to Eroi koto manga? Please let us know in the comments below.