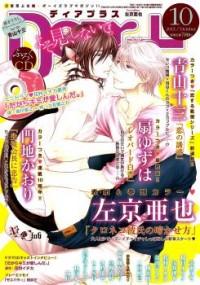 Manga: Kuroneko Kareshi no Nakasekata, I Want to Make my Black Cat Boyfriend Purr, Kuroneko – Fang mich, クロネコ彼氏の啼かせ方, 黑猫男友的哭泣方法
Author: SAKYOU Aya
Genres: Drama, Fantasy, Romance, Smut, Supernatural, Yaoi
Released: 2013
Status in Country of Origin: 2 Volumes (Complete)
Scanlator: BL-Gyaru, Fluff Words, Panda Hero, Paradise Love Scanlation, Pink Cherry Blossom Scans, Rising Gods of the East Scanlations
Summary: Kakami, who is head over heals over his cute house cat more than ever, wants to take their relationship to the next level.
While spoiling Shingo, Keiichi suddenly comes up with a proposal. "Let's try living together." he asks. Worried about getting in a rut and slowly losing interest in one another once seeing each other every day, Shingo bluntly refuses. But the headstrong leopard can't accept his boyfriend's decision, so he forces him into his luck.
Download Kuroneko Kareshi no Nakasekata Manga:
Kuroneko Kareshi no Nakasekata
Read Kuroneko Kareshi no Nakasekata Online:
Kuroneko Kareshi no Nakasekata
---
Post's Author Opinion:
Note: This is a personal opinion, it does not reflect YaoiOtaku's official position towards the manga.
This is the 3. manga out of the Kuroneko Kareshi series. As usual we get to see behind the curtain of the popular werecat couple and their passionate love life. Again we get to read about Shingo's insecurities and how Kagami Keiichi is there to teach him of the better. But there is progress in their relationship, so the plot stays interesting.
This manga is like a bridge for the next volume which is in my opinion the best manga out of the series. So please make sure to keep on reading if you liked it so far 😉
What's your opinion on Kuroneko Kareshi no Nakasekata manga? Please let us know in the comments below.