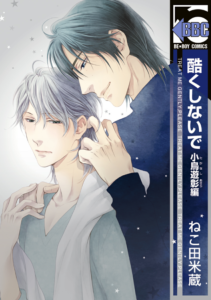 Manga: Hidoku Shinaide – Kotoriasobu Akira-hen, Hidoku Shinaide – Takanashi Akira-hen, Hidoku Shinaide – Takanashi Akira's Story, 酷くしないで 小鳥遊彰編
Author: Yonezou Nekota
Genres: Drama, Romance, Yaoi
Released: Feb 7, 2014
Status in Country of Origin: Completed
Scanlator: N/A
Summary: Takanashi Akira (Maya's cousin from Hidoku Shinaide) is attending university together with his friend Shimakawa. One day his younger possessive brother Jutta announces he is in love with his high school teacher, reopening Akira's past wounds.
Download Hidoku Shinaide – Takanashi Akira-hen Manga:
Hidoku Shinaide – Takanashi Akira-hen Japanese Scans
Read Hidoku Shinaide – Takanashi Akira-hen Online:
Hidoku Shinaide – Takanashi Akira-hen English Scans
---
Post's Author Opinion:
Note: This is a personal opinion, it does not reflect YaoiOtaku's official position towards the manga.
Story: And yet another side-story by Nekota-sensei, in fact, that one is probably my most favorite supporting couple. The story includes two college students, who began their relationship on sort of a joke. That, of course, continues later on completely based on just a physical contact and nothing more, at least for the uke supporting lead – Takashi Akira. You have probably noticed the side-story itself is dedicated to his case. Akira is, in fact, Hideyuki Maya's – the main character in Hidoku Shinaide, cousin. It's that side of Hidoku Shinaide, where you will dive a bit more onto the psychological side of gay romance. It is a bit untypical to have the one-sided things in a relationship on the uke's side, it is very interesting. What makes it exciting is how the seme supporting role 'responds' to that one-sided thing – in a very manipulative way, actually! If you imagined some seme, who would go and capture the moon – well, you are not far from it but still not close enough. The seme lead, Shimakawa Naoya, is very clear on two things regarding Akira – he was deeply hurt and secondly, he doesn't care for Naoya's good looks. It is probably obvious that he would get interested in someone who doesn't give a single penny about Naoya's popularity. Or rather, how straight-forwardly Akira asked him to sleep with him upon their first meeting. All of Akira is something that keeps provoking that wolf in sheep's clothing, and I am telling you, he is a wolf in sheep's clothing – make no mistake about it!! Hmm, probably that's the reason why I like that couple so much? Because Naoya, although tip-toeing around Akira's traumatic heartbreak, is agile enough to win that given-up-on-love boy.
Characters: Now, being clear on the atmosphere in the side-story, let's talk about the characters in question a bit. In the story we get introduced to four different 'main characters'. Akira and Naoya on one side and on the other side we get involved with Akira's first love, his teacher, and Akira's very own brother. The angst comes in once Akira's brother brings up Akira's old wounds. But I won't go any further because this will become a review with huge spoilers. What I wanted to talk about was Akira's brother. He has his own side-story, but even after reading it… I still can't find myself liking that guy. I dislike how forceful and cheeky he is, really. Even in the main story with Maya and Nemugasa, he appears to meddle in their relationship. The manga-ka hasn't dived deep enough for me to justify his action, like, lack of attention, heartbreak and these usual things you get when some 'forceful' character is created. Another thing you might notice is that he has a brother complex, to a degree I also believe he has a cousin complex too, lol. I mean, he also bothers Maya although not as much as his brother, Akira. I really dislike his attitude.
Art: As I have already said about the art in the previous review of Hidoku Shinaide's main story, the art is beautiful. The characters' design are befitting – from face features to clothes, they are created in a way to go along with every single of their personality. One feature I would like to mention, which I really like, is Naoya's beauty marks. I don't think I have seen a character so far with that distinguished idea – two beauty marks next to each other. Also, he is tall. And the height difference is not drawn in an awkward way, but described very smoothly without any bydo proportion anomalies.
Overall, the side-story, although not so long, is worth the attention. In fact, I believe it's worth its own volume. I wish the story had a separate follow-up and review in details their relationship. I know that Nekota-sensei is good when it comes to projecting the characters' follow-up and how they develop – the main characters of Hidoku Shinaide are a living proof. So, I would be very happy, if one day I wake up to news such as Akira's and Naoya's story to continue! Bah, I can only imagine how happy it would make me, damn. So, don't drop or skip their story – it is worth it!
See you on my next review on Ten Count! We will get deep and psychological, hohoho.
What's your opinion on Hidoku Shinaide – Takanashi Akira-hen manga? Please let us know in the comments below.