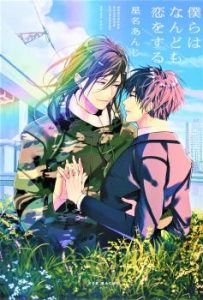 Manga: Bokura wa Nando mo Koi o suru, 僕らはなんども恋をする
Author: SEINA Anji
Genres: Drama, Romance, Supernatural, Yaoi
Released: 2017
Status in Country of Origin: 1 Volume (Complete)
Scanlator: YaoiSM 801
Summary: Don't die!! I have yet to tell you I love you.
Salaryman Issei and self-styled cameraman, Ban are sex friends. He loves Ban but is unable to tell him his feelings. Despite this, their relationship continued for a year. But just when Issei was about to confess his feelings, Ban died in an accident. In despair, Issei fell down a staircase and went back in time before Ban died…!?
Download Bokura wa Nando mo Koi o suru Manga:
Bokura wa Nando mo Koi o suru [ENG]
Read Bokura wa Nando mo Koi o suru Online:
Bokura wa Nando mo Koi o suru [ENG]
---
Post's Author Opinion:
Note: This is a personal opinion, it does not reflect YaoiOtaku's official position towards the manga.
Is it possible to create your own destiny? Seina Anji plays with this thought, using the fantastic theory of time travel.
In my opinion, romance and sci-fi/ supernatural topics are a match made in heaven since they have the potential for dramatic, great plots. So, if you like stories containing these aspects you don't have to look any further.
Reading about the unmatched couple Issei and Ban was sweet, fun and nerv-wracking at once. I loved Ban for his cheerful and easygoing character which was a good balance to Issei's personality who seemed a bit cold and pessimistic at first but started to thaw as the story went on.  The manga as such was diverting and easy to read despite the many time jumps and tendency of getting a tiny bit philosophical.
Regarding the artwork, the mangaka fully hit my taste with her cute and at the same time mature style.
Anyone who loves a dramatic love story will come at their costs. You don't necessarily have to be a fan of supernatural or science fiction themes to enjoy this nice story. Also, there's no need to worry… No matter how tragic Ban and Issei's situation may seem you will be rewarded with a sweet and touching grand finale!
What's your opinion on Bokura wa Nando mo Koi o suru manga? Please let us know in the comments below.