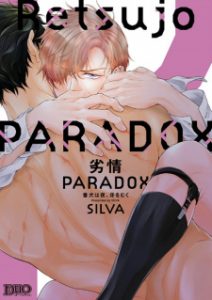 Manga: Retsujou PARADOX – Banken wa Yoru Kiba wo Muku, 劣情PARADOX ~番犬は夜、牙をむく~, Carnal Desire Paradox: The Guard Dog Gets Feisty At Night
Author: SILVA
Genres: Drama, Politics
Released: 2017
Status in Country of Origin: Completed
Scanlator: N/A
Summary: You've been holding in your carnal desires for so long, your body has become pitiful…
The next target of Seiji Kiriya, a private investigator, is Hiroki Yano, the go-getting secretary of a powerful politician who has "special information." To get the information he needs, Seiji succeeds in becoming Hiroki's "friend in bed." As they consummate their passion-filled physical relationship over and over again, Seiji realizes that Hiroki has feelings for a special someone and starts to get jealous. In comparison, Hiroki has a secret he can't tell Seiji, becoming overwhelmed with feelings for his new friend…
(Source: Renta!)
Download Retsujou PARADOX – Banken wa Yoru Kiba wo Muku Manga:
N/A
Read Retsujou PARADOX – Banken wa Yoru Kiba wo Muku Online:
N/A
---
Post's Author Opinion:
Note: This is a personal opinion, it does not reflect YaoiOtaku's official position towards the manga.
Another manga worth reading! It has a decent storyline, gorgeous art, a "healthy" amount of smexy scenes and a happy ending!
I liked that the drama featured in this manga was not about Hiroki and Seiji's relationship – much – but highlighting more on the conflict behind the scenes. It has a good suspense and despite having some clichés which no yaoi manga could go without, it wasn't too predictable. In other words, it's not boring.
I get that a lot of people read yaoi for the smutty scenes – and trust me, there are enough of them in this manga – but for those who are looking for something with good content, you should give this manga a try.
What's your opinion on Retsujou PARADOX – Banken wa Yoru Kiba wo Muku manga? Please let us know in the comments below.