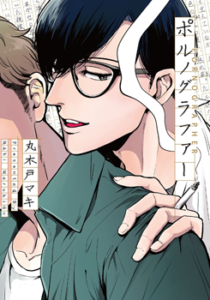 Manga: Pornographer, ポルノグラファー
Author: MARUKIDO, Maki
Genres: Drama, Romance, Yaoi
Released: 2016
Status in Country of Origin: 1 Volume (Complete)
Scanlator: Ebil Trio, MOY Moe Scanlations, eggscans
Summary: Kusumi, a young man who currently studies commerce, hit the famous novelist Kijima in a traffic accident.  With no money or insurance on hand he asks the injured man if he could help him out otherwise. After learning about the students good english skills he makes a proposal to help him out on his new projects. Touched by the kindness of the writer, Kusumi gladly accepts his offer.
It didn't take long for the auxiliary-writer to notice which kind of novels he is taking dictations for. The mousy looking author turns out to be writing popular erotic novels. As time passes,  the more do the filthy fantasies of the lewd novelist affect the students everyday life. Nevertheless he enjoys his work together with the eccentric writer.
Unfortunately every wound heals with time and the day will come when their "contract" ends. Will Kusumi who gradually developed feelings for Kijima, be able to stay by his side?
Download Pornographer Manga:
Pornographer [ENG]
Pornographer [JP]
Read Pornographer Online:
N/A
---
Post's Author Opinion:
Note: This is a personal opinion, it does not reflect YaoiOtaku's official position towards the manga.
Pornographer is a very erotic yet classy romance-drama. What caught my attention was the mangaka's excellent story telling. I especially loved the depiction of the unsociable  author (such a interesting character 😉 )
Yaoi fans who value a good plot with awesome character development and eye-catching, beautiful art will appreciate this great manga.
What's your opinion on Pornographer manga? Please let us know in the comments below.