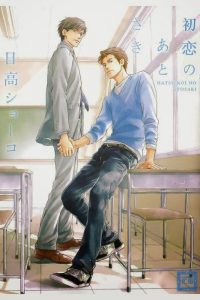 Manga: Hatsukoi no Atosaki, 初恋のあとさき, Consequences of First Love
Author: Shoko Hidaka
Genres: Slice of Life, Drama, Romance
Released: 2011
Status in Country of Origin: Complete
Scanlator: blthings
Summary: Nishina is doing well at his prestigious company but after divorcing from a loveless marriage, his success at work seems empty. A chance meeting at a cafe brings him into contact with the owner, Miyama, an old high-school classmate. It seems that Miyama has forgotten him until he asks Nishina why he's no longer wearing a wedding ring and about what Nishina said to him 10 years ago in high school.
Download Hatsukoi no Atosaki Manga:
Hatsukoi no Atosaki
Read Hatsukoi no Atosaki Online:
Hatsukoi no Atosaki
---
Post's Author Opinion:
Note: This is a personal opinion, it does not reflect YaoiOtaku's official position towards the manga.
This manga is set two years after what happens in Arashi no Ato where Miyama is a supporting character. Although Miyama wasn't around much, I really liked him so of course I had to read the sequel as well.
The only complaint I have about Hatsukoi no Atosaki is that it wasn't longer. Before I read it I already knew I like Miyama and after, I got to like Nishina too. So much that I wholeheartedly can get over his scared, insecure high school self.
Hatsukoi no Atosaki deals mostly with Miyama and Nishima's past as former school colleagues, and although I did like the insight, I would really like to read more about their present situation. We only get a little of it on the last pages of the manga, and that's not really enough for me. They still have things to deal with and I am curious about how they'd get around it.
Other than that, Shoko Hidaka did not disappoint. I liked the plot and the art is pretty too.
What's your opinion on Hatsukoi no Atosaki manga? Please let us know in the comments below.