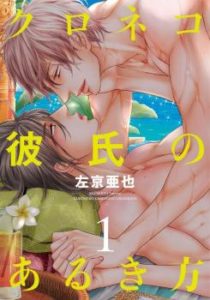 Manga: Kuroneko Kareshi no Arukikata, Kuroneko Kareshino Arukikata, クロネコ彼氏のあるき方, 黑猫男友的前行方法
Author: SAKYOU Aya
Genres: Drama, Fantasy, Romance, Smut, Supernatural, Yaoi
Released: 2017
Status in Country of Origin: 1 Volume (Ongoing)
Scanlator: Pink Cherry Blossom Scans
Summary: Keiichi awaits a big surprise after coming home from a busy day at work. The whole family surrounding the couple of the shape shifting black house cat and his leopard boyfriend spontaneously gathered up for a happy day out, at a leisure resort. Though Keiichi, who hates sharing his lover with others feels bothered by all the potential rivals. What's more, he feels left out on Shingo's past and develops needless feelings of jealousy.
Also, does a old acqaintance of Shingo unintencionally invade the peaceful life of the 'newly-wed' couple, who's arrival causes once again for trouble.
Download Kuroneko Kareshi no Arukikata Manga:
Kuroneko Kareshi no Arukikata [ENG]
Kuroneko Kareshi no Arukikata [JP]
Read Kuroneko Kareshi no Arukikata Online:
Kuroneko Kareshi no Arukikata
---
Post's Author Opinion:
Note: This is a personal opinion, it does not reflect YaoiOtaku's official position towards the manga.
Get ready for another round of high quality romance-smut!
This Volume is up till now, the brightest out of the Kuroneko Kareshi series. We finally get to see a truly happy couple in a balanced relationship. I felt really satisfied, reading about their positive progress after suffering along with the two love-birds and cheering them on for so long 😀 so i really hope, for the sake of my heart, that their current happy state doesn't change ( I can't handle any more heartbreak 😀 ).
What's your opinion on Kuroneko Kareshi no Arukikata manga? Please let us know in the comments below.