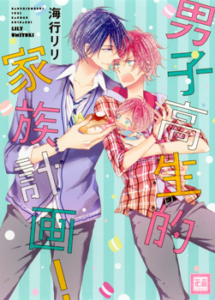 Manga: Danshi Koukouseiteki Kazoku Keikaku!, 男子高生的家族計画!
Author: Umiyuki Lily
Genres: Yaoi, Fluff
Released: 2014
Status in Country of Origin: Complete
Scanlator: Canis Major Scans
Summary: Hino-kun is good-looking and a rumored delinquent. Actually, he is a kind-hearted high school student who looks after his young nephew. He can see that Mizusawa-kun is good at making sweets so for the sake of his fatherless nephew, he asks him to, ?Please marry my older sister!? But instead, he receives a reverse proposal from Mizusawa saying, "Actually, the one I want to marry is you…"!?
Download Danshi Koukouseiteki Kazoku Keikaku! Manga:
Danshi Koukouseiteki Kazoku Keikaku!
Read Danshi Koukouseiteki Kazoku Keikaku! Online:
N/A
---
Post's Author Opinion:
Note: This is a personal opinion, it does not reflect YaoiOtaku's official position towards the manga.
I tend to read adorable manga–that's just the type of manga I enjoy sticking with. Danshi Koukouseiteki Kazoku Keikaku! is definitely one of the fluffiest, most sugar coated, candy-filled, cutest manga ever. This is mostly because of the sweet, little child who is the nephew of the main character, Hino. This darling angel helps to bring his uncle and another man together and even helps them stay together. Seeing Hino and Mizusawa go through their troubles with a child in the mix not only adds a certain pressure that you don't normally encounter in yaoi manga, but it also makes you root for them even more. It makes you wish that they would solve their problems that much faster just so everyone in the equation can be happy.
The story itself is a bit rushed, but the development of the relationship between Hino and Mizusawa is well-done, so I think that can be excused. The focal point of the story are these two boys trying to figure the other out with the help of a sweet little child, and the author certainly nailed it. If you're interested in caring, affectionate families, sprinkled with a few sexy scenes here and there, and a loving but confused couple, then pick up Danshi Koukouseiteki Kazoku Keikaku! It's right up your alley.
What's your opinion on Danshi Koukouseiteki Kazoku Keikaku! manga? Please let us know in the comments below.