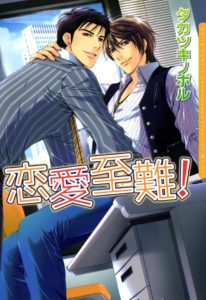 Manga: Renai Shinan!
Author: Takatsuki Noboru
Genres: Comedy, Romance, Slice of Life, Yaoi
Released: 2007
Status in Country of Origin: 1 Volume (Complete)
Scanlator: Hochuuami
Julia-ceres
Liquid Passion
NoDeadline
Summary: 1-3) Renai Shinan!
When Hatano's scruffy boss Honjou asks for his help with girls, Hatano agrees reluctantly. But Honjou turns out to be surprisingly sexy. Can Hatano resist his own creation?
4) Trial Love
Salaryman Kiriya has just broken up with his boyfriend, and feels listless. But he has a puppy-like coworker named Hiura who won't leave him alone. After a kiss on a crowded train, they start spending more time together, but how far will this go?
5) Renjo Sketch
Yoshino is a talented painter who longs to study in art to create more beautiful paintings…but with the debt of his family how can he? But what's this? A wealthy stranger offering THAT much money to be a model? What's with this stranger, who is he…?
6) Renai Shinan! – Extra
Hatano and Honjou are back again! And this time with some fun late night work at the office!
Download Renai Shinan! Manga:
Renai Shinan!
Read Renai Shinan! Online:
NA
---
Post's Author Opinion:
Note: This is a personal opinion, it does not reflect YaoiOtaku's official position towards the manga.
Renai Shinan! Is a collection of some short stories, though the main couple as seen on the cover is covered in most of the chapters. The main story is really well done and quite an enjoyable read. Hatano is not a typical uke, which I like a lot, he's very tough, dominant, and doesn't get too emotional even when he is feeling so. A nice change of pace from the typical uke you find in most yaoi manga. His supervisor and eventual partner Honjou is a bit more of a passive Seme though not a crybaby or a complete pushover which again, is nice and not entirely the typical seme you might find.
Hatano, even though he is tough is still very cute and likeable, especially as he grapples with his own feelings. He first denies them and then starts to figure it out, all the while trying to act tough. Even when he tries to deny his feelings it's humorous and cute. Honjou also is very endearing and cute, as he has never dated, and wants to be a bit more popular, not realizing that in the beginning his appearance is a put off for most people. He is very earnest and true to what he likes and who he likes which is different from Hatano. Though not opposites, their personalities are quite different from each other which makes their relationship so amusing and cute.
The second story is also another one that I enjoyed because it was a good combination of typical and not typical. As you have Kiriya who ends up with his co-worker Hiiura who is very cute and won't leave him alone, start up a relationship that was unsatisfactory to Kiriya until he discovers something about Hiiura that satisfies Kiriya. This story despite being so short is rather cute, and again has an unconventional Seme and Uke pairing that I like. The ending is rather satisfying despite it being a oneshot.
The third story is about a young artist who wants to study art at a university, but due to financial issues he is unable to and takes on the job of being a model at the university just to pay his bills. He then becomes a model for an artist/teacher who takes an interest in him. This story is probably the most "typical" of a yaoi story but even then it's still enjoyable, and cute. It tends to be the favorite for most people, but I prefer the main story and then the second one myself. But this story is quite cute, and it's amusing as the uke is still not a "traditional" which is one of the reasons I still liked it.
This manga has a little bit for everyone and even if the main story isn't your cup of tea the two oneshots are still very enjoyable and cute.
What's your opinion on Renai Shinan! manga? Please let us know in the comments below.