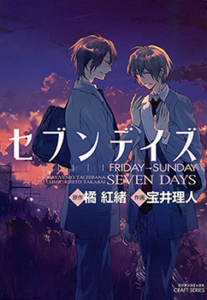 Manga: Seven Days
Author: Venio Tachibana, Rihito Takarai (artist)
Genres: Shounen-Ai
Released: 2007
Status in Country of Origin: Complete
Scanlator: Aarinfantasy, Catandmouse Scans, Vices and Devices, omgbl, Vampirecat
Summary: Bright and early one Monday morning, Shino Yuzuru asks Seryou Touji out on a lark when they run into each other at the school gate. Seryou, who's immensely popular, has the odd habit of going out with anyone who asks him out first at the beginning of the week, then promptly dumping them at the end of it.
"Anyone" apparently includes male upperclassmen like Shino, and as a boyfriend, Seryou is perfect–unfailingly thoughtful and kind. Shino, obviously, has no intention of being in a serious relationship with Seryou. It's not like it's actually love or anything like that. …Right?
Download Seven Days Manga:
Seven Days
Read Seven Days Online:
N/A
---
Post's Author Opinion:
Note: This is a personal opinion, it does not reflect YaoiOtaku's official position towards the manga.
Seven Days is something of a classic when it comes to shounen-ai. It's such a gentle, sweet story that you can't help but fall in love with it. There's nothing about it that's terribly exciting, but I think that's what makes it so tender. It's just two men trying to get through their relationship. They are both wondering if this whole "date for seven days thing" is just a joke to the other. That drama along with the usual difficulty of trying to get to know somebody is what makes this story so touching and relatable. You see so many sides to the characters and it's especially fun to see what they think of each other. You find yourself rooting for them and just wishing that they will both see how much they care about one another. Even though this manga takes place over the course of only seven days, you can really see exactly how the characters fall in love and what makes them genuinely feel for each other. Seven Days provides that gentle, charming, tender read that we all need every now and then.
What's your opinion on Seven Days manga? Please let us know in the comments below.