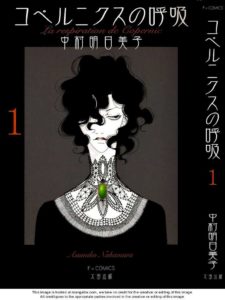 Manga: Coponicus no Kokyuu, Copernicus Breathing, Copernicus' Breath, La Respiration de Copernic, コペルニクスの呼吸, 哥白尼的呼吸
Author: NAKAMURA Asumiko
Genres: Adult, Historical, Psychological, Slice of Life, Supernatural, Tragedy, Yaoi
Released: 2002
Status in Country of Origin: 2 Volumes (Complete)
Scanlator: HotCakes
Summary: The story takes place in a circus in Paris in the 1970's. Much is made of the romance of the circus atmosphere, of flying through the air on a trapeze etc. We're talking about Old World riffs on the romance and tawdriness of the ring. There are no elephants in tutus walking on their hind legs in this circus; but there are slit-eyed jugglers, daring death-loving trapeze artists and sad Pierrot clowns; though the Pierrot clown – our hero, Torinosu (a.k.a 'Bird's Nest') does have a false red nose.
The tawdriness comes from the circus master pimping out his performers to anyone willing to pay. Decadence is strife throughout the tale – ghosts who wander into the action looking like teenage girls even though they're actually the hero's brother; abandoned neurotic women with a thing for inflicting pain; buracon and possible murder, not to mention mountains of unspoken pining and a hero who looks about to perish at any moment from terminal angst
Download Coponicus no Kokyuu Manga:
Coponicus no Kokyuu
Read Coponicus no Kokyuu Online:
N/A
---
Post's Author Opinion:
Note: This is a personal opinion, it does not reflect YaoiOtaku's official position towards the manga.
I know, this manga won't be everyone's cup of tea, however it's definitely one of a kind and worth talking about.
I must admit, it took me some time to get into this story but for some reason I couldn't put it down either and before I knew it, I was caught in a vortex of sadness, pain and angst. In this work, NAKAMURA Asumiko took all taboos one can think of such as drug abuse, prostitution, murder, incest, mental disorders, pedophilia etc. and packed all of it into a story, just to write one of the gravest manga I have ever read. Nevertheless, although the turbulent journey of our hero "birds nest" may be hard to digest, you can't stop reading this exceptionally gripping story because you desperately  wait for the moment finally to come, where he (hopefully) manages to flee from all his sorrows.
The first thing that caught my eye and therefore awakened my interest was the beautiful manga cover. One of the many things I love about the mangaka's works is the squiggly and melancholic style that gives her art a dreamy and surreal character. To me, her unique way of drawing gives especially this story a psychedelic touch that accentuates the dismal mood of the plot. I also think that the artwork plays an important role telling the story, more than i am usually used in other manga. So if you give this piece of art a chance, please pay special attention to the drawings.
So, if you are brave enough to look into the dark abyss of your soul and  aren't afraid of what you may find on your emotional journey together with our tragic hero "birds nest", then this rare gem is a manga worth reading. It gave me a lot to think about and made me remember to have more appreciation for everything that i took for granted this whole time.
On the other hand, and that is a serious warning, if you are easily affected negatively by such depressing stories and can't handle to read about abuse in any kind, better  leave it. It isn't rated 18+ because of the H-Scenes but rather because of all the upsetting events that happen during the story. Even I who has a preference for gloomy story lines or psychological manga had a hard time with this.
Nevertheless, i am happy and appreciate it that NAKAMURA Asumiko  had the courage to publish such a, in my eyes, important story and portray topics others would normally avoid even thinking about. And in my opinion, especially art is a medium where one has the freedom to brake all rules and confront people in a drastic way with such sensitive subjects. That is why… please, whoever can, should read this. The readers who complain about cliché plots will discover something excitingly special and new 😉
What's your opinion on Coponicus no Kokyuu manga? Please let us know in the comments below.