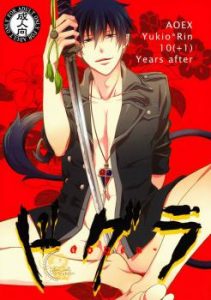 Manga: Ao no Futsumashi dj – Dogra, Ao no Exorcist dj – Dogra,
青の祓魔師 dj -ドグラ
Author: Fizzcode (SATO Nishi)
Genres: Doujinshi, Smut, Yaoi
Released: 2012
Status in Country of Origin: 1 Volume (Complete)
Scanlator: YaoiOtaku Translation
Summary: What awaits Rin in ten years? Is it a good fortune, successful grown-up life or there is something more in store for him, and Okumura brothers in general?
Download Ao no Futsumashi dj – Dogra Manga:
Ao no Futsumashi dj – Dogra [ENG]
Read Ao no Futsumashi dj – Dogra Online:
N/A
---
Post's Author Opinion:
Note: This is a personal opinion, it does not reflect YaoiOtaku's official position towards the manga.
(*° ་། °)=3
Sometimes kaomojis reflect my feelings better than words 😀 This was one flaming hot, kinky doujinshi that gave me a nosebleed after reading the first 5 pages. The smut was really good and i liked the art. Also, if you belong to those who are into sadomasochism you will have your fun with this lewd piece of art. Concerning the plot, i will skip this point this time because there isn't much to talk about and i would only reveal too much.
My résumé is that it's a nice fan service for those who ship Rin and Yukio. However, its all about the sex but the quality of the art and smut was great and mouth-watering 😉
What's your opinion on Ao no Futsumashi dj – Dogra manga? Please let us know in the comments below.