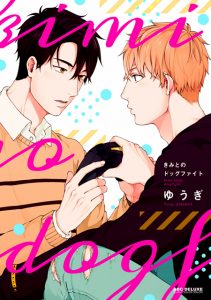 Manga: Kimi to no Dogfight, Dogfight With You, きみとのドッグファイト
Author: Yuugi
Genres: Romance, Slice of Life
Released: 2017
Status in Country of Origin: Complete
Scanlator: Cloudy Scans
Summary: College boy Haruno goes to meet a person he's gotten to know through an online game. He goes expecting for a cute girl, but instead he meets a guy and not just any guy but a very popular ikemen guy that goes to the same college as he does. Maybe this meeting is their fate.
Download Kimi to no Dogfight Manga:
Kimi to no Dogfight
Read Kimi to no Dogfight Online:
Kimi to no Dogfight
---
Post's Author Opinion:
Note: This is a personal opinion, it does not reflect YaoiOtaku's official position towards the manga.
Kimi to no Dogfight is a really chill, easy to read manga. If you feel like reading something really light, this is just the the manga for the job.
The plot is pretty straight forward, and maybe a bit cliché (which made me a bit pissed to be honest; classic case of miscommunication), but still, this is quite enjoyable. Haruno is the cute go-easy sunshine type of a guy, and Mao is the really handsome guy who gets misunderstood due to his looks. Nothing new there and paired with the lack of communication you get the same ol' yaoi manga plot.
But this manga somehow makes it work really well. Once you advance reading it, things fall in place in a nice manner and you can actually enjoy it. And a big plus, the ending was worth it. I liked it a lot.
What's your opinion on Kimi to no Dogfight manga? Please let us know in the comments below.