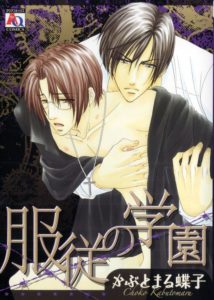 Manga: Fukujuu no Gakuen
Author: Kabutomaru Chouko
Genres: Adult, Drama, Smut, Yaoi
Released: 2009
Status in Country of Origin: 1 Volume (Complete)
Scanlator: Attractive Fascinante
Summary: From Attractive Fascinante:
It's a sin for Father Chikayoshi to fall in love with his student, Motoyama Kiyoshi. He seeks forgiveness by giving full submission to Motoyama, letting Motoyama to taint and control him.
Download Fukujuu no Gakuen Manga:
Fukujuu no Gakuen
Read Fukujuu no Gakuen Online:
NA
---
Post's Author Opinion:
Note: This is a personal opinion, it does not reflect YaoiOtaku's official position towards the manga.
While not a big fan of religious themed yaoi I am always willing to check something out if it looks interesting enough. This one, I'm not sure what I was really expecting, but whatever it was this was NOTHING what I was expecting at all. The characters were really unlikeable, and the idea of this priest adoring such a shitty student just really made the entire story almost painful to read.
The whole thing is based on the fact that the priest is feeling guilty that he has fallen in love with his student, who as I mentioned, is a snot nosed student with a shitty personality. The priest becomes this just another cliche masochist character who is in love with a student who is a huge asshole that manipulates the priest throughout the entire story.
The second story is a little bit better, but again, not a lot of character development, or plot to the story.
I would recommend this if you are only looking for a PWP type of manga with a lot of smut, and no emotional attachment since there isn't any real likeable characters.
What's your opinion on Fukujuu no Gakuen manga? Please let us know in the comments below.