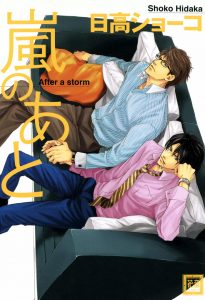 Manga:  Arashi no Ato, 嵐のあと, 폭풍후에
Author: Shoko Hidaka
Genres: Slice of Life, Drama, Romance
Released: 2007
Status in Country of Origin: Complete
Scanlator: Attractive Fascinante, blthings
Summary: Sakaki, the president of an interior designing company, is determined to never get serious with anyone – fearing the heartache he feels that it is sure to cause. Much to his discomfort, he realizes that he is beginning to fall in love with Okada who is heterosexual.
Sakaki is shocked when he finds himself in Okada's home one day, with no recollection of how he got there. At first convinced that he did not act out-of-line at any point, Sakaki feels more and more unsure of this as he notices the changes in Okada's behaviour towards him.
Will this storm that's brewing on the horizon ever calm down?
Download Arashi no Ato Manga:
Arashi no Ato
Read Arashi no Ato Online:
Arashi no Ato
---
Post's Author Opinion:
Note: This is a personal opinion, it does not reflect YaoiOtaku's official position towards the manga.
Arashi no Ato is a much calmer manga than the title suggests. Well, for the reader at least, because I think Sakaki would disagree. Speaking of, Sakaki is the type of man who doesn't want complications, he likes things tidy and distinct. So of course he wouldn't allow himself to fall for a hetero guy. Or so he wishes. Because Okada has an opinion himself, and he doesn't really care for tidiness or putting each thing into a different category.
They are complete opposites, and we already know what they say about opposites.
I liked them both, Sakaki and Okada. They are pretty likeable characters and the story overall was more slice of life than others I read, and that's a plus from me. The plot is believable and easy to follow, just what you need for a nice evening read.
What's your opinion on Arashi no Ato manga? Please let us know in the comments below.