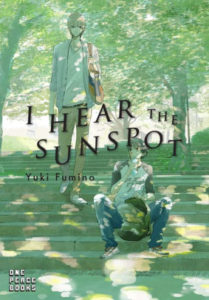 Manga: I Hear The Sunspot, Hidamari ga Kikoeru
Author: Yuki Fumino
Genres: Shonen-Ai, School Life, Slice of Life
Released: 2013
Status in Country of Origin: Complete
Scanlator: Hoshi Kuzuu, Pink Cherry Blossom Scans, kachuya
Summary: The story starts with college student Taichi, who comes from a not-so-well-off household and is desperately searching for work. He (literally) stumbles across fellow student Kouhei while on a job hunt, and is incredibly enticed by the delicious bento Kouhei has in hand. However, something seems a bit off about Kouhei–and when Taichi consults his friends about it, he gets an answer he really wasn't expecting: Kouhei is severely hearing impaired.
Download I Hear The Sunspot Manga:
N/A
Read I Hear The Sunspot Online:
I Hear The Sunspot
---
Post Author's Opinion:
Note: This is a personal opinion, it does not reflect YaoiOtaku's official position towards the manga.
I'm not sure how it is for other people, but I for one have difficulty finding truly touching yaoi/shonen-ai manga. There's only a handful out there that pull at your heartstrings and present a beautiful, lovely story with genuine characters and deep, complex issues rather than frivolous ones. I Hear The Sunspot has cemented itself as one of those few manga that has all of these aspects and more.
The story is about a young man, Kohei, who is partly deaf. Because of this disability he has distanced himself from people and in realty people have distanced themselves from him as well. For the most part, Kohei was a loner who kept to himself until he met Taichi. Taichi is the exact opposite of Kohei–he's energetic, loud, and somewhat abrasive. Thus their relationship begins. Even though these personality types seem typical the characters don't necessarily act as such. Just when you think you know exactly where the story will go, a surprise is thrown out at you. It keeps the story fresh and interesting!
This is a shonen-ai, but there's very little to be had when it comes to that. Admittedly I felt like I was just watching the growing friendship between two men. Even the author herself said that her editor told her there needed to be BL in a BL manga (haha!) The BL that we do get doesn't come off as the typical romance that we see in yaoi/shonen-ai manga. It's far more relatable; there's so much substance to it that it can't possibly fit into just one manga (which is why there's a sequel!) The BL isn't the only thing with substance either. The story itself is so real that you almost wonder if you're reading a biography in manga form.
I Hear the Sunspot is such a strong, solid story. There's not many mangas out there that are quite like this one. Prepare for a beautiful, well thought out, incredible manga.
What's your opinion on I Hear The Sunspot manga? Please let us know in the comments below.