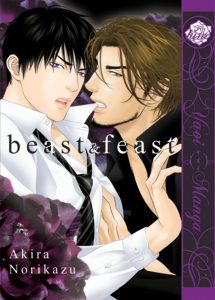 Manga: Beast & Feast, 野兽与盛宴, 野獸與盛宴
Author: Akira Norikazu
Genres: Drama, Action, Yaoi
Released: 2010
Status in Country of Origin: Complete
Scanlator: Dangerous Pleasure
Summary: While investigating a murder case, Detective Hishinuma Kazuha is reunited with mobster Hyoudou Itsuki. During their junior high school days, their relationship was like oil and water; Kazuha minded his own business and Hyoudou was emotionally attached.
Hyoudou is at a bargaining point as he approaches Kazuha: he'll divulge important information about the case in exchange for Kazuha's body. Kazuha refuses such an unfathomable request, but Hyoudou, the unrestrained beast, takes control…
Download Beast & Feast Manga:
Beast & Feast
Read Beast & Feast Online:
Beast & Feast
---
Post's Author Opinion:
Note: This is a personal opinion, it does not reflect YaoiOtaku's official position towards the manga.
What a surprising read! I totally expected something else judging by the title of the manga, but it was pretty good.
The manga keeps you interested from the first pages, you get right into the story without much dragging, and that makes things exciting. We know from the very start what we need about the characters and their relationship, and what follows is just a hot mess.
Although I do have my complaints regarding what went down and even some aspects of the art, I did enjoy the manga, and I liked both of the characters a lot. Their relationship too. They really made things work despite some bumps along the way.
And don't know about you guys, but I kind of like it when one of the main characters is a bit hungrier, although in this case they are both quite hungry.
Anyway, I'd give this manga a try. It is quite entertaining, not outstanding, but enough to make you want to read up until the very last page.
What's your opinion on Beast & Feast manga? Please let us know in the comments below.