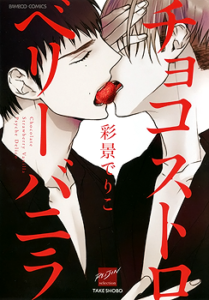 Manga: Choco Strawberry Vanilla
Author: Psyche Delico
Genres: Yaoi, Smut
Released: 2011
Status in Country of Origin: Complete
Scanlator: Yaoi is Life, Cocobees
Summary: Hiroi always shared what he liked, things and people alike, with his childhood friend Take. Take always returned Hiroi's affections. Mine, who because of his deep love for Hiroi, accepts both of them. The relationship of these three classmates was in a good balance, but because of a subtle change in their feelings, this balance slowly gets unhinged…?!
Download Choco Strawberry Vanilla Manga:
Choco Strawberry Vanilla
Read Choco Strawberry Vanilla Online:
Choco Strawberry Vanilla
---
Post Author's Opinion:
Note: This is a personal opinion, it does not reflect YaoiOtaku's official position towards the manga.
Threesomes tend to be a messy thing, and Choco Strawberry Vanilla gives us good insight into just how messy they can be. "Messy" can be interpreted in all kinds of different ways for the record. Initially there seems to be lack of the usual "messy" drama that comes with this sort of situation, but lo and behold, it eventually rears it's ugly head. One of the three men in the story (read to find out which!) becomes jealous of his two lovers, thinking that they care about each other more than they care about him. This is to be expected, so I wouldn't say that the situation was handled with any sort of uniqueness, but it was still entertaining. The story drove you to keep reading so you could find out just exactly how the three resolved this problem.
Choco Strawberry Vanilla is also messy in another way. The smut in this manga is delicious, as it should be. Considering the whole plot revolves around a threesome, I think the audience expects some satisfying smut. Well, don't worry. This manga delivers. As a plus these boys are good looking and the art is nice! I've seen better admittedly, but I've also seen worse. For me, the art looked somewhat realistic and that drew me to it.
Overall, there was nothing particularly special about Choco Strawberry Vanilla, but I enjoyed reading it and it kept me entertained. What more could I ask for?
What's your opinion on Choco Strawberry Vanilla manga? Please let us know in the comments below.