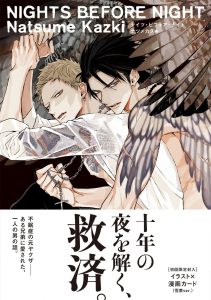 Manga: Nights before Night
Author: Natsume Kazuki, ナツメカズキ
Genres: Drama, Yaoi
Released: 2018
Status in Country of Origin: Completed
Scanlator: Seraphic Deviltry
Summary: From Seraphic Deviltry:
Spin-Off story from MODS: Haru's been struggling with Shigure's death for so long that he has forgotten how being in love feels. May Yukitaka, Shigure's younger brother make Haru find love again?
Download [NAME] Manga:
Nights before Night(Eng)
Nights before Night(Jp)
Read [NAME] Online:
Nights before Night (Eng)
---
Post's Author Opinion:
Note: This is a personal opinion, it does not reflect YaoiOtaku's official position towards the manga.
When I heard that there was a spin-off with Haru's story, I got very interested. In the original story MODS he was a somewhat mysterious character with vague intentions. In Nights before Night we dive into Haru's world, getting to know the heart and soul of a man who lost everything. Still tormented by the death of his lover Shigure 11 years ago, Haru is forced to babysit Shigure's younger brother Yukitaka. Not only does he resemble his brother a lot. His attitude is all about enjoying his life without any responsibilties and it provokes Haru from day one.
These two characters contrast each other wonderfully. While Yukitaka is carefree, loud and seemingly arrogant to the core, Haru is calm, collected and filled with a deep sadness. In the beginning they rather appear like cat and dog than "meant to be". To me this is one of the biggest strengths of this manga. Little by little they break down each others walls and reveal the wounds Shigure's death has caused them. This is not "love at first sight" story. In the 7 chapters they slowly get to know each other and Haru in particular takes his time opening up and letting himself feel again.
Natsume Kazuki is one of my favourite artists and to me this is her best work so far. If you're ready for a detailed story with heavy emotions and two loveable mature characters, this is the story for you.
What's your opinion on Nights before Night manga? Please let us know in the comments below.