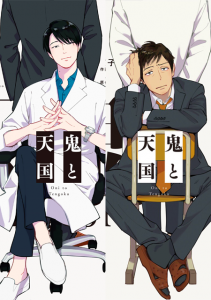 Manga: Oni to Tengoku, 鬼と天国
Author: Naomi Aga, Kyouko Oyoshikawa
Genres: Psychological, Romance, Yaoi
Released: 2018
Status in Country of Origin: Complete
Scanlator: Ikemen Scans, Pink Litchi Scanlations
Summary: Aoki, a high school teacher, has little motivation for anything other than expending as little effort as possible. After being scolded by a senior teacher, he goes to the infirmary to check on a student that has been skipping class. There he shares his first real conversation with the eerily perceptive school nurse, Manabu.
Download Oni to Tengoku Manga:
[Oni to Tengoku]
Read Oni to Tengoku Online:
[Oni to Tengoku]
---
Post's Author Opinion:
Note: This is a personal opinion, it does not reflect YaoiOtaku's official position towards the manga.
I am a little conflicted about this manga. Plot wise, Oni to Tengoku is great. Right from the start I liked the setting and the fact that the characters are not high schoolers. I noticed I tend to enjoy mangas with more adult characters these days, so Oni to Tengoku was right up my alley. Not to mention that the synopsis is interesting enough to make you want to read it.
Another plus is the art which is really pretty. I really liked how the manga is drawn, so we add points to the pleasure of reading it.
When it comes to the story itself, I have a few things I want to bring up. While the plot is pretty interesting, the character's development is a little… steep. Aoki was pretty linear, most of the time, but Manabu's personality seemed to change throughout the manga and that made me confused, I even thought I might have missed something, but nope, everything was there.
There are two volumes of Oni to Tengoku and it might have benefited another volume right between them. It feels like some things happened that caused the characters to act slightly different.
I'm not complaining too much, though, oh no! I really enjoyed the manga and if at first I had some fears that the characters relationship might remain on a more… professional level, I was happy to be proven that no, it would not. If you read this manga you'll get what I mean.
Bottom line Oni to Tengoku is a good manga, it deals with some trauma, some complexes, and some obsessions that I liked how were introduced to the reader. If and how the characters deal with those, has only one answer and that is to read the manga.
What's your opinion on Oni to Tengoku manga? Please let us know in the comments below.