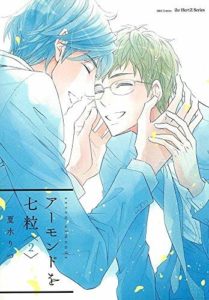 Manga: Almond O Nanastubu
Author: Natsumizu Ritsu
Genres: Yaoi
Released: 2012
Status in Country of Origin: 2 volumes (complete)
Scanlator: Yaoi Desire Revolution
Summary: Hazuki is honest, awkward and a member of the product planning department. Watanabe has the top business performance transfers into his department. Hazuki held animostity towards Watanabe thinking, he is completely different from me and he is attractive with a good personality. But ever since Watanabe invited Hazuki out to eat on the weekend, Hazuki goes to Watanabe's house to eat hot pot and the private time that they spend together becomes fun. But, Hazuki learns about Watanabe's secret and the relationship between the two starts to change…?
Download Almond O Nanastubu Manga:
Almond O Nanastubu
Read Almond O Nanastubu Online:
N/A
Post's Author Opinion:
Note: This is a personal opinion, it does not reflect YaoiOtaku's official position towards the manga.
While it's currently ongoing (scanlator wise) there is something really intriguing about this story, the characters are interesting, and Hazuki is a cute and honest character. Watanabe is a handsome and charismatic character who is interesting in the way he looks and interacts with Hazuki. The story is intense in the sense that I want to know more, I want to know what happens next, and while there isn't a lot of sex (so far) the scenes that do happen are good.
There is something that is intriguing and a little off about Watanabe, but that is part of the appeal to the story. Who is he? What is his interest in Hazuki? And what is his ultimate goal? The artwork is nice and I very much want to read more to find out what is happening.
What's your opinion on Almond O Nanastubu manga? Please let us know in the comments below.