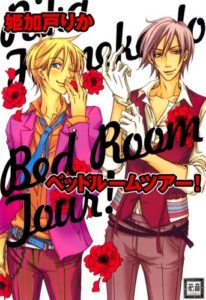 Manga: Bed Room Tour! ベッドルームツアー! Bedroom Tour!
Author: Himekado Rika
Genres: Comedy, Drama, Romance, Smut, Yaoi
Released: 2007
Status in Country of Origin: 1 Volume (Complete)
Scanlator: Blissful Sin
Summary:
During the last summer holiday of high school, Chinatsu, who has been scared of sex ever since he had his heart broken, decides to jump into the arms of Charles Yamazaki, who is said to be a Love Counsellor that can bring one out of one's pain no matter how terribly one's heart has been broken.
Download Bed Room Tour! Manga:
Bed Room Tour!
Read Bed Room Tour! Online:
N/A
Post's Author Opinion:
Note: This is a personal opinion, it does not reflect YaoiOtaku's official position towards the manga.
This manga is a collection of oneshots. They're all pretty straight forward without a lot of plot or romance. The artwork is decent and the stories are an easy read. If you are looking for something that is lovey dovey or romantic this may not be for you since the stories tend to be sex driven, with a dark tone and occasionally bordering on cruel. But if you are looking for a quick and fairly amusing read with a lot of sex then give it a shot!
What's your opinion on Bed Room Tour! manga? Please let us know in the comments below.