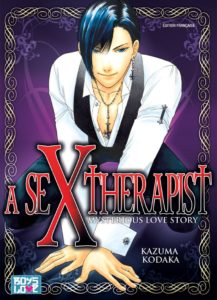 Manga: Sex Therapist, A Sex Therapist
Author: Kodaka Kazuma
Genres: Comedy, Psychological, Romance, Smut, Supernatural, Yaoi
Released: 2006
Status in Country of Origin: 1 Volume (Complete)
Scanlator: Hochuuami
Summary: In an area of town overflowing with sex related shop is a bar named 'Bar Kain', where the desires hidden at the bottom of customer's heart is guided forth.
Download Sex Therapist Manga:
Sex Therapist
Read  Sex Therapist Online:
N/A
Post's Author Opinion:
Note: This is a personal opinion, it does not reflect YaoiOtaku's official position towards the manga.
Sex Therapist is a series of short stories with the common character being Kain who works at the bar that "helps" with guiding the desires of those who enter forward. The artwork is beautiful, and the reappearing character Kain is really sexy and charismatic. The stories are interesting though short, and each of the characters that appear in the different stories are intriguing and rather likeable. There is amusement and a little bit of romance, but the sex scenes are sexy. If there is a complaint to be made about it, it would be that this manga was far too short with me wanting to see and know more about what happens to the couples after they become aware of their deepest desires. It also would have been nice to know more about Kain.
Overall the stories are well done, and the artwork is beautiful, the sex scenes are pretty sexy and the characters are all rather interesting.
What's your opinion on Sex Therapist manga? Please let us know in the comments below.