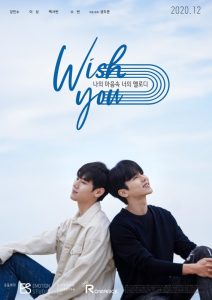 Movie: Wish You
Alt. Names: 위시유, 위시 유: 나의 마음속 너의 멜로디, Wish You: Your Melody From My Heart
Genres: Drama, Music, Romance
Released: 2020
Status: Complete
Country of Origin: South Korea
Summary: Singing and dreaming together, a talented singer-songwriter and a same-aged keyboardist add harmony and love to each other's lives.
Download Wish You Movie:
n/a
Watch Wish You Online:
n/a
---
Post's Author Opinion:
Note: This is a personal opinion, it does not reflect YaoiOtaku's official position towards the novel.
This series had me giggling almost for the whole duration. I am not taking it too seriously and because of that I am more forgiving than I would normally be. Wish You was really nice. It gave me all kinds of good feelings, made me feel happy and giddy, and that's pretty good to me.
If I were to take the series more seriously, I'd say I would have liked more development, both regarding the plot—well, 'plot'—and the characters, and that the chemistry between the two main characters wasn't exactly palpable. As it is, it felt more like watching a recap of some sort. There's also a film version, but I'm not sure what differences there are between the two since I only watched the series. I think there are some extra scenes in the film and maybe those help bringing it all together. I don't know, I don't plan on watching it anyway. I'm just glad for the happy feels, Wish You is a fluffy lil series.
What's your opinion on Wish You movie? Please let us know in the comments below.