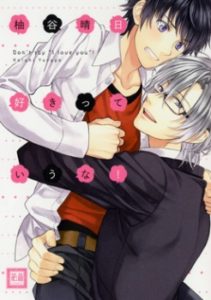 Manga: Suki tte Iu na!, 好きっていうな!; 就是别说你爱我
Author: YUZUYA Haruhi
Genres: Romance, School Life, Yaoi
Released: 2013
Status in Country of Origin: 1 Volume (Complete)
Scanlator: michiruzuki
Summary:
The handsome and popular student council president, Tokita Eiji. The plain-looking average student, Okamoto Oriya. These two really don't have anything in common, but one day, Tokita suddenly says, "Oriya, I think it's about time we got married"!?
Download Suki tte Iu na! Manga:
Suki tte Iu na!
Read Suki tte Iu na! Online:
Suki tte Iu na!
---
Post's Author Opinion:
Note: This is a personal opinion, it does not reflect YaoiOtaku's official position towards the manga.
The story is extremely cute, as well as the characters, and the seme is so handsome and hot~~~~ I love the art, the plot, and I love when the seme is obsessed with their uke <3 I'm also love the cousin and the vice president~~ they'd make such a sweet and funny couple <3 What's your opinion on Suki tte Iu na! manga? Please let us know in the comments below.