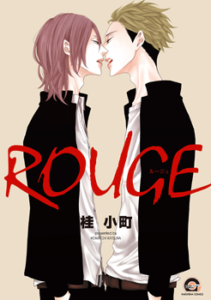 Manga: ROUGE
Author: KATSURA Komachi
Genres: Romance, School Life, Yaoi
Released: 2016
Status in Country of Origin: 1 Volume (Complete)
Scanlator: Fated Fujoshis, Sentimiento Yaoi
Summary: Gang fights and Yakuza dabblings. Sophomores versus seniors. Blood, rape and power. Mayhem rules Kishuu Private High School when the sophomore Nagato transfers into the all-boys school. Being battle-tested and oblivious to the hierarchy, the newcomer soon piques the senior leader's interest. When Nagato is suddenly confronted and defeated by the latter's lap dog, Ai, he vows to get back at his foe. Little does he know that Ai harbours a dark past behind his beautiful poker face…
Includes also "Ai wa Deban wo Matte Iru"
Download ROUGE Manga:
ROUGE [ENG]
ROUGE [JP]
Read ROUGE Online:
ROUGE
---
Post's Author Opinion:
Note: This is a personal opinion, it does not reflect YaoiOtaku's official position towards the manga.
This manga is a sweet mix out of the Romance, School Life and Yakuza genre. It is a story about a young love between two guys who each have dark secrets of their own. However, even though the setting of this story is school themed and can be described as romantic, it has nothing to do with the cute & dramatic classic School-Life BL that was drawn so many times before. In fact, while reading about the gang feuds and all the dangerously cool and vicious delinquents, you quickly get the feeling of reading a yakuza manga.
KATSURA Komachi who is famous for drawing beautiful, mysterious yet cute characters remains true to the art style. Especially the MC Kaga Ai, with his very androgynous appearance, big eyes and soft facial features falls into this pattern. But we also get to see plenty of delicious pierced and tattooed bad boys, like the mysterious bad-ass yakuza duo Yamato x Yukio, who by the way are both so interesting that they have their own story to tell which is shown in the manga "Aka to Kuro". (Please read it, it's so awesome >.<)
I must admit, I stopped counting how many times i've read this manga and it's sequels, because I am so in love with the main couples in both "ROUGE" and "Aka to Kuro". 😀 Plus, I also really like this School-Life x Yakuza crossover, which I haven't read like this before. In this way, a story with youthful energy paired with hot Ikemen gangsters is being served :-Q It's addicting!
So yes, all that's left to do, is to wish you a nice time while reading this one-of-a-kind BL manga. I hope you enjoy it as much as I do 😉
(By the way, for those who might be put off by the summary, because of violence and rape being mentioned… the content is moderate so you can read this manga without feeling upset or uneasy.)
What's your opinion on ROUGE manga? Please let us know in the comments below.