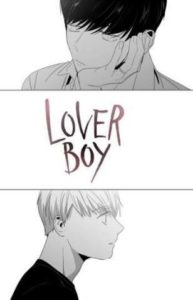 Manga: Lover Boy, Salanghaneun Sonyeon, Любовник, 사랑하는 소년
Author: Zec
Genres: Adult, Drama, Romance, Slice of Life, Smut, Yaoi
Released: 2016
Status in Country of Origin: 72 Chapters + Prologue (Complete)
Scanlator: Lezhin, Random Fujoshis, atruebluewarrior, jaynia
Summary: Eun Ho, the little neighbor boy that always asked Jae Ha to marry him is all grown up now. Jae Ha never gave little Eun Ho a second thought until one day, years later, Eun Ho suddenly reinserts himself into Jae Ha's life. Will Eun Ho forever be the little neighbor boy to Jae Ha? Or will Jae Ha finally see Eun Ho for the man he's now become?
Download Here U Are Manga:
N/A
Read Here U Are Online:
N/A
---
Post's Author Opinion:
Note: This is a personal opinion, it does not reflect YaoiOtaku's official position towards the manga.
Okay y'all, I've been dying to write this. First of all, if you still haven't read this yet I have two questions…how? and why?! Sorry I always get triggered when it comes to this story, because it's just full of feelings. An age-gap relationship could never be this much hooking, this can't be only me. I first read this because I find the art pretty but, without me noticing I was binge reading it, on repeat. Like, you know when you find a good story when you just can't stop. I'm not sure, maybe I find this very close to me because some stuff in the story is something I can relate, but beside all that…the characters, the way they show their emotions is so beautiful. Anyway, you called ocean of feels drama hotline, here's your order.
What's your opinion on Lover Boy manga? Please let us know in the comments below.