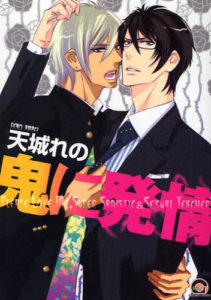 Manga: Oni ni Hatsujou
Author: Amagi Reno
Genres: Comedy, Romance, School Life, Yaoi
Released: 2009
Status in Country of Origin: 1 Volume (Complete)
Scanlator: Shinmakoku Scanlations
Summary: From Shinmakoku Scanlations:
When Tanami Riku's father died in a traffic accident, he was left all alone. Then suddenly a guy named Onikubo Nagi came and demanded to be his guardian in place of his father, who was actually Nagi's former teacher. Then he applied as Riku's homeroom teacher! He pushed himself into Riku's life without even asking for permission. Living with the Super Sadistic Teacher was unbelievably harsh. What exactly did Nagi want with Riku?
Download Oni ni Hatsujou Manga:
Oni ni Hatsujou
Read Oni ni Hatsujou Online:
N/A
Post's Author Opinion:
Note: This is a personal opinion, it does not reflect YaoiOtaku's official position towards the manga.
This is a manga that has lovely artwork and a bit entertaining which should have something for everyone. But there is something about it that falls short of having that "something" for everyone. There are a lot of cliches in this manga which were a little bit charming, but at the same time it didn't make the story all that interesting. The characters while entertaining were also not really all that unique either, as you had a seme (Riku) who was a cry baby and a Uke (Nagi) who was a sadist, and while it made for an interesting dynamic it wasn't enough to save the weak storyline. The relationship between the characters also didn't seem to have the same kind of chemistry as I've found with other manga.
Despite the lack of chemistry and the fact that the Seme's personality is the opposite of what one might think of on the cover, it was amusing to see Nagi break down from his typical Sadistic behavior, but at the same time he remained his sadistic self which was good.
It's got something for everyone, yet not everyone would like it. I think if you're looking for something that is an easy read, then this is worth the read.
What's your opinion on Oni ni Hatsujou manga? Please let us know in the comments below.