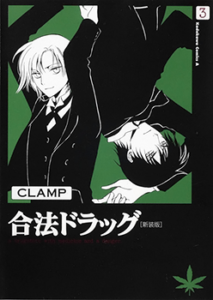 Manga: Legal Drug, Gohou Drug, Lawful Drug
Author: CLAMP
Genres: Supernatural, Shonen-Ai
Released: 2000
Status in Country of Origin: Incomplete
Scanlator: Be With You Scans, Green Drugstore, Let There Be Yaoi, Warabi
Summary: Meet Kazahaya and Rikuo. By day, they are two ordinary pharmacists at the Green Drug pharmacy; by night, their boss has them filling 'special prescriptions' for clients with ailments that can't be cured using ordinary elixirs.
Download Legal Drug Manga:
N/A
Read Legal Drug Online:
N/A
---
Post Author's Opinion:
Note: This is a personal opinion, it does not reflect YaoiOtaku's official position towards the manga.
CLAMP is known for their wide variety of manga. They've specialized in tragedy, shoujo, mystery, supernatural, school life, and so much more. Legal Drug is just one manga series in their ever-growing resume, however, it's one that is as frustrating as it is beautiful. Legal Drug is unfinished and has been for many, many, MANY years. There's sequel! But the sequel is unfinished as well. That's the main reason why I give this manga a rating of 3.5 when it really should be higher. It's hard to dedicate yourself to a story that you know if unfinished.
That being said, I highly recommend this manga especially if you are a fan of CLAMP. It's beautifully drawn and the mysteries that occur in the story are fun and strange (even for CLAMP!) I've never seen CLAMP get stranger than Legal Drug–the closest being xxxHolic. You find yourself getting lost in the odd situations the characters get into regardless of how ridiculous it may seem. The fantasy of it all just sucks you in and you can't put it down.
The shonen-ai aspect of the story, however, is lacking some. It's more implied shonen-ai than anything. The main characters' boss is in a relationship with a mysterious man who has no background, explanation, or… Anything really. There's little to show that the main guys are interested in each other, but this is CLAMP. They love to play with us and tease us. They often take a "we'll leave this to the imagination" stance on their work, and Legal Drug is no exception.
Still, you find yourself satisfied and giggling just as if you were reading a proper shonen-ai. Legal Drug has a lot of problems, but you can't help but feel satisfied with what you're given. Perhaps that's the magic of CLAMP.
What's your opinion on Legal Drug manga? Please let us know in the comments below.