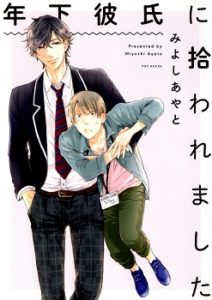 Manga: Toshishita Kareshi ni Hirowaremashita, Picked Up By A Younger Boyfriend, 年下彼氏に拾われました
Author: MIYOSHI Ayato
Genres: Drama, Romance, Yaoi
Released: 2015
Status in Country of Origin: 1 Volume (Complete)
Scanlator: Fujoshi Bitches
Summary:
Thirtyish and gay, Kogawa Shouta has long delayed his first love. He gets drunk out of his mind and is cared for by the bursting-with-youth high schooler, Mikuni Mayu. He comes to his senses after making an unexpected love confession to Mayu. He won't allow himself to be seduced by a straight teen…
A high school boy in his dazzling blazer makes your heart throb.
Includes Ookami Kui (Wolf Eater) oneshot.
Download Toshishita Kareshi ni Hirowaremashita Manga:
Toshishita Kareshi ni Hirowaremashita (Raw)
Read Toshishita Kareshi ni Hirowaremashita Online:
Toshishita Kareshi ni Hirowaremashita (English)
---
Post's Author Opinion:
Note: This is a personal opinion, it does not reflect YaoiOtaku's official position towards the manga.
This manga is adorable! It depicts the relationship of Kogawa Shouta, a 27 year-old salary man (uke) and Mikuni Mayu, a high school student (seme). So, as you can tell this is an older uke, younger seme, age-gap manga.
Shouta has been in love with his friend Mikuni Izakagi, ever since high school. Years later, after attending his love's wedding, he gets drunk and is taken care of by the handsome and cute high school student, Mikuni Mayu. He comes to his senses after making an unexpected love confession to Mayu while imagining him as the other Mikuni, his just married friend.
A very interesting part of the story is a flashback, in which we see that in high school, Kogawa was actually confessed to (in a way) by Mikuni Izakagi, but he was afraid to confess his feelings as well, because his friend was very unsure of his sexuality.
I totally recommend this manga, it's cute, sweet, realistic, not your common plot, lovely story flow, amazing art.
What's your opinion on Toshishita Kareshi ni Hirowaremashita manga? Please let us know in the comments below.