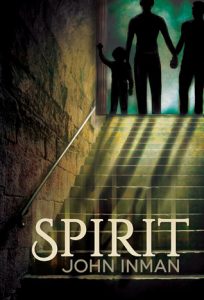 Novel: Spirit
Author: John Inman
Genres: Paranormal, Romance, Mystery, Family
Released: 2014
Part of Book Series: Standalone
Summary: Jason Day, brilliant designer of video games, is not only a confirmed bachelor, but he's as gay as a maypole. One wouldn't think being saddled with his precocious four-year-old nephew for four weeks would be enough to throw him off-kilter.
Wrong. Timmy, Jason's nephew, is a true handful.
But just when Timmy and Uncle Jason begin to bond, and Jason feels he's getting a grip on this babysitting business once and for all, he's thrown for a loop by a couple of visitors—one from Tucson, the other from beyond the grave.
I'm sorry. Say what?
Toss a murder, a hot young stud, an unexpected love affair, and a spooky-ass ghost with a weird sense of humor into Jason's summer plans, and you've got the makings for one hell of a ride.
---
Post's Author Opinion:
Note: This is a personal opinion, it does not reflect YaoiOtaku's official position towards the novel.
I don't normally read books by John Inman, but I made an exception this time. I didn't expect the story to turn out the way it did, judging from the summary and the cover. Surprisingly, what I got in the end was an entertaining story with a dash of mystery and comedy.
I liked the personality of the three main characters – Jason, little Timmy and Sam. They clicked together and made babysitting a handful four-year old sounded fun if not tiring. The mystery surrounding the house was unforeseen in the beginning, but at first hint, almost everything became clear.
A quarter-way into the book, the who, what, when and where were pretty much answered. What was left were the how and why. The author didn't really put an effort into the mystery but at least the story kept us with the suspense of waiting for Jason and Sam's discovery. I found that sometimes the characters acted a little out of norm even during normal situation, but the whole thing already started out weirdly when Jason's sister went on a month-long vacation with her boyfriend and left her son in Jason's care.
Even though the romance was a good development for the story, I think it was lukewarm and didn't interest me at all. The story was okay – light, interesting, although slightly annoying at certain times. I've tried reading more of John Inman's books previously, yet this is the only one I managed to go through until the last page. Not a bad book, yet not that special either.
What's your opinion on Spirit novel? Please let us know in the comments below.